'Society raises barriers' to people with disabilities says activist in Costa Rica
Human Rights
Despite suffering more than 100 bone fractures stemming from a life-long illness, 29-year-old Nicole Mesén Sojo has always persisted in fighting for the rights of persons with disabilities, and now her story is part of a new online book published by the UN.
"I am the daughter of a housewife and a car painter" is how Nicaraguan activist Ms. Mesén describes herself, while sitting behind her office desk in San José, the capital city of Costa Rica, where she is now living.
Born with osteogenesis imperfecta, a condition that causes bones to break easily and damages hearing, muscles, teeth and the spine, she uses a wheelchair.
"Being born with a disability is complex, not because of the disability itself, but because of all the barriers that society generates," she said. "Historically and culturally, we have generated a model of people. If someone breaks that model, we tend to segregate them and erect endless barriers because we build society with that model."
She said discrimination and a dearth of knowledge about the rights of persons with disabilities prevented her from going to nursery school. By primary school, she said her mother was ready. A law on equal opportunities was already in force, so when her mother approached the Education Ministry, she made sure her seven-year-old daughter could go to school.
A young Ms. Mesén found staff and students there ready to create an inclusive environment. Her father had crafted a crib with wheels to accommodate her, as she could not sit upright due to her medical condition and the school supported other accessibility efforts.
"It seemed to have created a pattern at the school because levels of inclusion had never been established before," she said.
She did not attend secondary school due to health reasons, but she never stopped learning, taking up painting and studying English; she also learned how to make crafts and jewelry.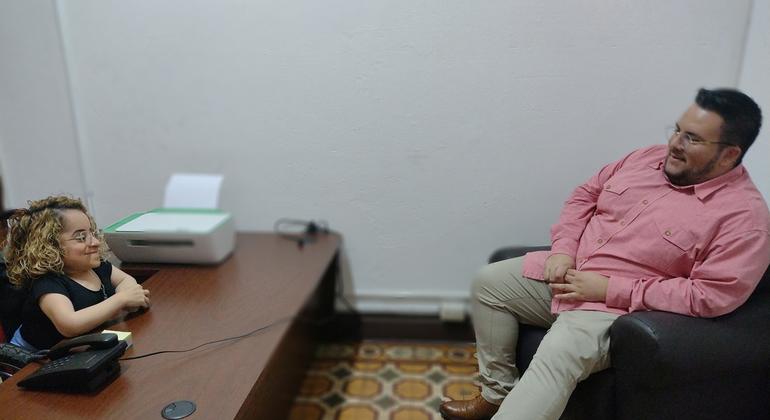 Disability in Costa Rica
More than 670,000 people, or 18 per cent of the country's population, lives with a disability – 39 per cent men and 61 per cent women. Although the vast majority of persons with disabilities have access to social security, Costa Rica still faces significant challenges to ensure full rights to education and employment.
Currently, 56 per cent of adults with disabilities are unemployed.
At age 18, Ms. Mesén became an activist to promote the rights of persons with disabilities, focusing her efforts on social media rather than campaigning in person.
"My mother gave me all the tools for me to assert my rights; no one was going to do it for me," she said.
By the time she was 22, she became the first person with a disability to be elected as councillor of Goicoechea a locaility in San José, a position she still holds.
"I saw politics as a platform to make mt activism more visible because I've always believed that activism and politics go hand in hand," she said.
But, Ms. Mesén never settles. She wants to become an activist lawyer to defend human rights.
Ms. Mesén's story is an example of struggle and achievement, part of a collection of 20 stories in the book I am a person with a disability in Costa Rica and this is my story, now available online in Spanish.
Part of a series of stories compiled in Costa Rica to raise awareness about the situations of specific people and groups and share their aspirations, struggles, experiences, and valuable life lessons, earlier editions have amplified the voices of people of African descent and of indigenous peoples. The next book in the series will contain stories of migrants.
Promoting inclusion
Allegra Baiocchi, UN Resident Coordinator in Costa Rica, said persons with disabilities, families, communities, institutions, and organizations are currently leading a transformation, by taking a people-centred approach to development.
"It's a great challenge for the UN, countries, and societies to support groups that have experienced exclusion and have faced extremely complex struggles," she said. "It's about listening to them, supporting them, and reaffirming their aspirations for equality and social justice. Every day, we are learning how to ensure true inclusion and accessibility for all people."
That includes ensuring that more persons with disabilities have access to employment and leadership positions, she said. The newest This is my story book recognizes the persons with disabilities "who inspire us and encourage us to fight for equality, rights, and well-being for all people", she said.
"They teach us that we will not be able to achieve sustainable development if we do not close the gaps that are affecting them much more deeply than the rest of the people in Costa Rica," she said.
When the book was launched, Costa Rica's Vice President, Mary Munive, said the Government is committed to move towards becoming a more inclusive country with more opportunities for all.
"We must guarantee that our population with disabilities has access to quality education and jobs," she said.
Ongoing efforts in Costa Rica include implementing the UN Disability Inclusion Strategy, promoting advocacy and generating evidence and information for decision making.
Disability inclusion in Costa Rica
Methodological tools were developed to train women with disabilities on sexual and reproductive health issues as part of an initiative led by the UN Population Fund (UNFPA) in partnership with the National Institute for Women, National Council for Persons with Disabilities, and the Latin American Alliance of Women with Disabilities. UNFPA also presented a study showing that women with disabilities were among the groups most prone to experience different forms of gender-based violence.

UN Costa Rica is a pilot country for a UN disability inclusion initiative focused on ensuring that materials, web sites, and facilities, are accessible to persons with disabilities and that their needs are considered when developing policies.

Read more here about the UN in Costa Rica.