No Denying It episode 2: Edward Norton Introduces Nzambi Matee
Climate and Environment
In the second episode of the UN climate action podcast, No Denying It, actor Edward Norton introduces Nzambi Matee, a young Kenyan entrepreneur, who is rethinking how waste is managed and reused, with the aim of building a better society.
Reuse plastic, solve the housing crisis, and create jobs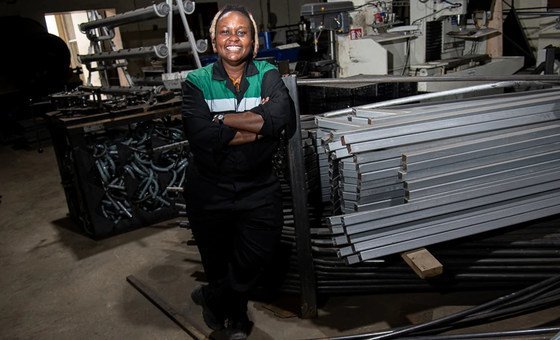 Ms. Matee's company, Gjenge Makers, produces sustainable low-cost construction materials made of recycled plastic waste and sand. She has partnered with different manufacturers of plastics bottle tops and seals in the beverage and pharmaceutical industries in Kenya to collect offcuts and scraps.
This material is amalgamated with discarded single use plastics delivered by informal waste collectors, to build paving bricks, while providing the collectors with a stable income.
Gjenge Makers has financially empowered over 112 individuals, through the supply and pre-processing stages of the production process. Ms. Matee's goal is to solve the challenges of plastic waste and the high cost of housing with her plastic bricks.
Her approach can inspire us to look at local systems that are currently managing waste, and to think about how that waste could be redirected in a more useful way, with a few tweaks.
In this episode, we talk to Ms. Matee, a recipient of the UN Environment Programme's (UNEP) Young Champion of the Earth for Africa award, about how to tap into existing systems to improve waste management, and how to export these ideas to other nations facing these issues.
Edward Norton
Edward Norton is a three-time Academy Award nominee, and the first UN Goodwill Ambassador to be appointed by the Secretary General. As the UN Goodwill Ambassador for Biodiversity, Mr. Norton works closely with the Secretariat of the UN Convention on Biological Diversity to advocate for the conservation and sustainable use of biodiversity. 
The American actor and filmmaker, known for starring in films like Primal Fear, American History X, and Fight Club, has also worked helping transform low-income communities through affordable housing projects while serving on the Board of Trustees Enterprise. 
Mr. Norton is also a former President of the Board of the Maasai Wilderness Conservation Trust, a community conservation organization that partners with traditional communities in East Africa to conserve key ecosystems by developing sustainable, natural resource-based economic revenues.