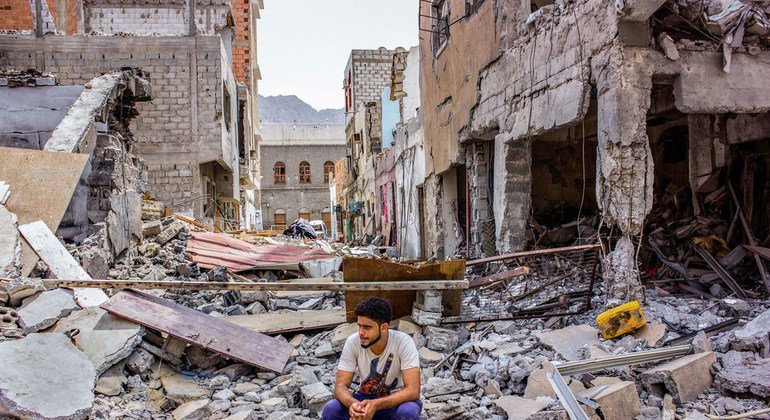 UNDP Yemen
"Immediate needs and priorities must be addressed within the context of a process that gears toward a comprehensive political settlement…toward a just and sustainable peace, and not merely the absence of war".
Overview
Yemen has been facing a protracted political, humanitarian and developmental crisis since uprisings broke out in 2011. With 80 per cent of the population, or 24.1 million people, in need of humanitarian aid and protection, it is now the largest humanitarian crisis in the world.
High-Level Pledging Event
Political Negotiations
The United Nations provided support for the negotiations between the Government and the opposition, which resulted in the signing of the Gulf Cooperation Council (GCC) Initiative and its Implementation Mechanism in Riyadh on 23 November 2011. The United Nations has since remained actively engaged with all Yemeni political groupings to facilitate and provide support for the effective implementation of the GCC Initiative and its Implementation Mechanism.
UN Secretary-General Antonio Guterres appointed Hans Grundberg of the United Kingdom as his Special Envoy for Yemen in August 2021, replacing Martin Griffiths.
Humanitarian Crisis
After more than six years of escalating conflict, The humanitarian crisis in Yemen remains the worst in the world. Assessments confirm that more than 16 million people will go hungry this year, and nearly 50,000 are already living in famine-like conditions. At the same time, Yemen continues to grapple with the effects of cholera, COVID-19, forced displacement, protection risks and other serious challenges.
And as of 31 July, 7,131 COVID-19 cases had been officially confirmed, with 1,384 associated deaths and a 19.4 per cent case fatality rate. All of the cases were reported are from the southern governorates, as the pandemic is not recognized in the north.