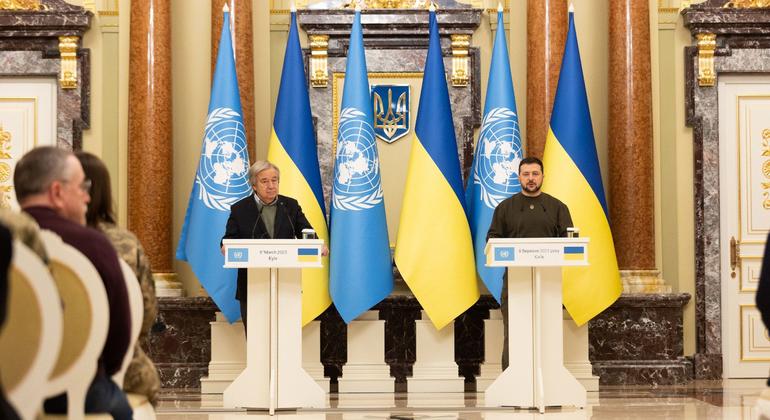 UN Photo/Vitalii Ukhov
I want to express my deep solidarity with all the victims of the war.  To those who have lost their lives and to their loved ones.  To those who have seen their hopes dashed or had to flee in search of survival. They are all owed effective accountability.
Secretary-General António Guterres in remarks to the press in Kyiv, 8 March '23 
Black Sea Grain Initiative/Joint Coordination Centre
The horrific war in Ukraine has led to a large-scale humanitarian and refugee crisis. The Global Crisis Response Group Task Team is issuing a series of reports, which can be found here, on the global impact of the war on food, energy and finance systems.
Tweet URL
Exactly 1 year ago, I appealed for all to be done, even at that late hour, to prevent a war in Ukraine. Moments later we learned that Russian troops were moving across the Ukrainian border. It's past time to put an end to this violation of the @UN Charter. https://t.co/jOCImZPdY7 https://t.co/q3pMuDYscx

DicarloRosemary
Overview
The security situation in Ukraine deteriorated rapidly following the launch of a Russian Federation military offensive on 24 February 2022. The armed violence escalated in at least eight oblasts (regions), including Kyivska oblast and the capital city of Kyiv, as well as in the eastern oblasts Donetsk and Luhansk which were already affected by conflict.
The escalation of conflict has triggered an immediate and steep rise in humanitarian needs as essential supplies and services are disrupted and civilians flee the fighting. The UN estimates that 12 million people inside Ukraine will need relief and protection, while more than 4 million Ukrainian refugees may need protection and assistance in neighbouring countries in the coming months.
On 1 March 2022, the UN and humanitarian partners launched coordinated Flash Appeals  for a combined $1.7 billion to urgently deliver humanitarian support to people in Ukraine and refugees in neighbouring countries.
Within Ukraine, the plan requires $1.1 billion to meet the escalating humanitarian needs of more than six million people affected and displaced by military operations over the next three months. Outside the country, the UN requested $551 million to help Ukrainians who have fled across borders, principally to Poland, Hungary, Romania and Moldova.
Amin Awad, the UN Crisis Coordinator for Ukraine called for an "immediate humanitarian pause" , on 5 March, in the fighting between Russian and Ukrainian forces, as UN aid supplies continue to arrive in the country.
Information about the UN Country Team in Ukraine can be found here.
Featured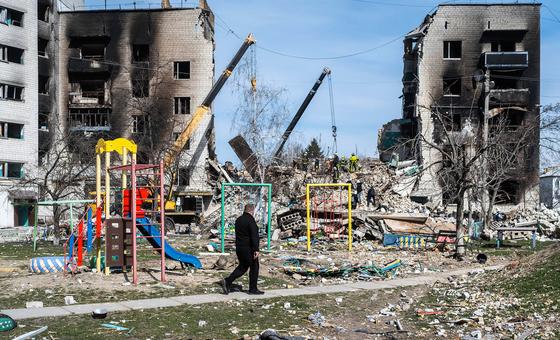 The people of Ukraine remain resilient a year since Russia's 24 February 2022 invasion but "humanitarian aid is as necessary as ever," according to the UN's most senior official in the country.
Denise Brown is the UN Resident and Humanitarian Coordinator in Ukraine.
Based in the capital Kyiv, she works alongside around 20 UN agencies with some 2,600 staff, the majority Ukrainians.
She spoke to UN News about the challenges of supporting communities in a country at war.
"Conditions have been pretty difficult in Ukraine over the past year and we've had to adapt to some extreme circumstances.
UN agencies in Ukraine
Related video and audio