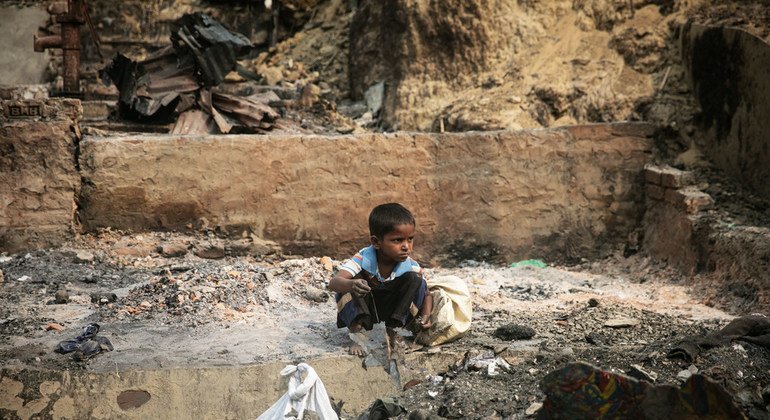 UNICEF/ Rashad Wajahat Lateef
Today, nearly one million Rohingya refugees continue to live in dire conditions….Addressing the root causes of systematic discrimination, disenfranchisement and communal violence in Myanmar is critical.
Secretary-General António Guterres said marking fourth anniversary of refugee influx from Myanmar into Bangladesh, 25 August 2021
Overview
Over a million Rohingya refugees have fled violence in Myanmar in successive waves of displacement since the early 1990s.
At the peak of the latest crisis, in 2017, thousands were crossing into Bangladesh daily. Most walked for days, and arrived exhausted, hungry and sick. The vast majority reaching Bangladesh were women and children, and more than 40 per cent are under age 12.
Since then, the Kutupalong refugee settlement has grown to become the largest of its kind in the world, with more than 600,000 people living in an area of just 13 square kilometres, stretching infrastructure and services to their limits.
The 2021 Joint Response Plan (JRP) for the Rohingya Humanitarian Crisis targets almost 1.4 million people. The $943 million plan seeks to meet the needs of 884,000 Rohingya refugees and 472,000 Bangladeshis in the host communities of Cox's Bazar.