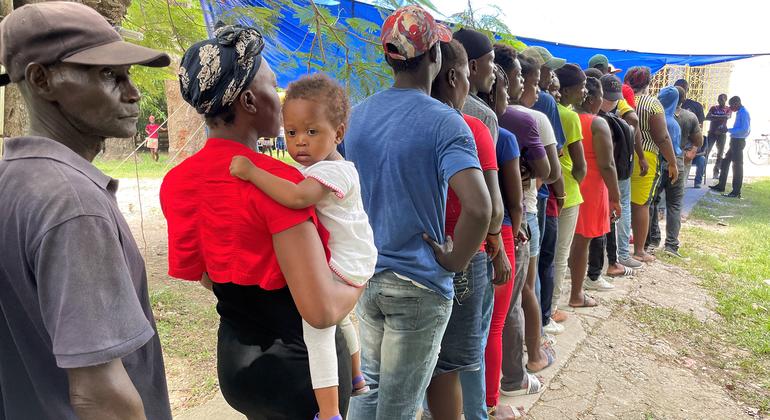 © UNICEF/Jonathan Crickx
We are working very closely with the Government [and] we salute the national leadership in the response, but we realize that with the current conditions in Haiti… we could face an exponential if not explosive increase in cholera cases. One could even say that perhaps the conditions are there for a 'perfect storm', unfortunately.
Ulrika Richardson, Deputy Special Representative for the UN Integrated Office in Haiti, Resident Coordinator and Humanitarian Coordinator, 06 October '22
UN Special Representative
Helen Meagher La Lime, UN Special Representative for Haiti
On 15 October 2019, United Nations Secretary-General António Guterres announced appointed Helen Meagher La Lime as his Special Representative for Haiti and Head of the United Nations Integrated Office in Haiti (BINUH).
Since 2018, Ms. La Lime has served as the Secretary-General's Special Representative heading the United Nations Mission for Justice Support in Haiti (MINUJUSTH).
Prior to joining the United Nations, Ms. La Lime had a distinguished career with the United States Foreign Service which included high-level diplomatic postings, notably as the Ambassador to Angola (2014-2017) and Director of Outreach at the United States Africa Command in Germany (2011-2013).
From 1996 to 2011, she served in various field positions with the Department of State, including as Deputy Chief of Mission at the United States Embassy in South Africa (2008-2011), Consul General of the United States in Cape Town, South Africa (2006-2008), Ambassador of the United States to Mozambique (2003-2006), Deputy Chief of Mission at the United States Embassy in Morocco (2001-2003) and in Chad (1996-1999).  From 1999 to 2003, she served as the Director and Deputy Director of the Department of State's Office of Central African Affairs, Bureau of African Affairs.
Ms. La Lime received a master's degree from the National Defence University in Washington, D.C., and holds a bachelor's degree in languages and linguistics from Georgetown University in Washington, D.C.  In addition to English, Ms. La Lime is fluent in French, Spanish and Portuguese.​
UN's New Approach to Cholera
On 19 August 2016, the Secretary-General announced the United Nations' new approach to cholera in Haiti. The Secretary-General indicated that he deeply regrets the terrible suffering the people of Haiti have endured as a result of the cholera epidemic and that the United Nations has a moral responsibility to the victims of the cholera epidemic and to support Haiti in overcoming the epidemic and building sound water, sanitation and health systems. He stressed that eliminating cholera from Haiti will take the full commitment of the Haitian Government and the international community and, crucially, the resources to fulfil this shared duty.
UN Integrated Office
Ulrika Richardson, Deputy Special Representative for the United Nations Integrated Office in Haiti (BINUH), Resident and Humanitarian Coordinator in Haiti.
Ms. Richardson, a Swedish national, has dedicated more than 30 years to international cooperation. Most of her professional life has been devoted to international civil service in the field through the United Nations primarily in West and Central Africa, the Caribbean as well as Western Balkans and South-East Europe. Ms. Richardson has extensive experience in a broad range of development, conflict, post-conflict, and humanitarian settings in a wide range of complex political, socio-economic, fragility, and human rights contexts with a strong track record in advocating for women and children's rights. She is also known to have in-depth knowledge of the multidimensional challenges Small Island Developing States are facing.
BINUH's mandate focuses on two main areas:
Advising the Government of Haiti in promoting and strengthening political stability and good governance, including the rule of law, preserving and advancing a peaceful and stable environment, including through supporting an inclusive inter-Haitian national dialogue, and protecting and promoting human rights; and 
In an advisory role, assisting the Government with its efforts in the following areas: dialogue and reforms; elections; police professionalism; community violence reduction and gang violence; justice reform; and prison condition and human rights protection and accountability. 
 
Related Videos