Character Sketches: Gladwyn Jebb by Brian Urquhart
Before I went to see Gladwyn Jebb in August 1945, several well-meaning people warned me that he was glacial, supercilious, and rude. I was going to see him because I wanted to work for the fledging United Nations, and Gladwyn had just been put in charge of the Preparatory Commission that would set up the new world organization. He was, effectively, the first UN Secretary-General. Gladwyn could not have been more friendly or helpful. Although I had virtually no qualifications except my war record and a reasonable command of French and German, he took me on at once as his personal assistant. This was one of the luckiest things that ever happened to me. Not only did it get me in on the ground floor of the one institution I wanted to work for. Equally important, it gave me the chance to do my apprenticeship for a civilian career under a remarkable man.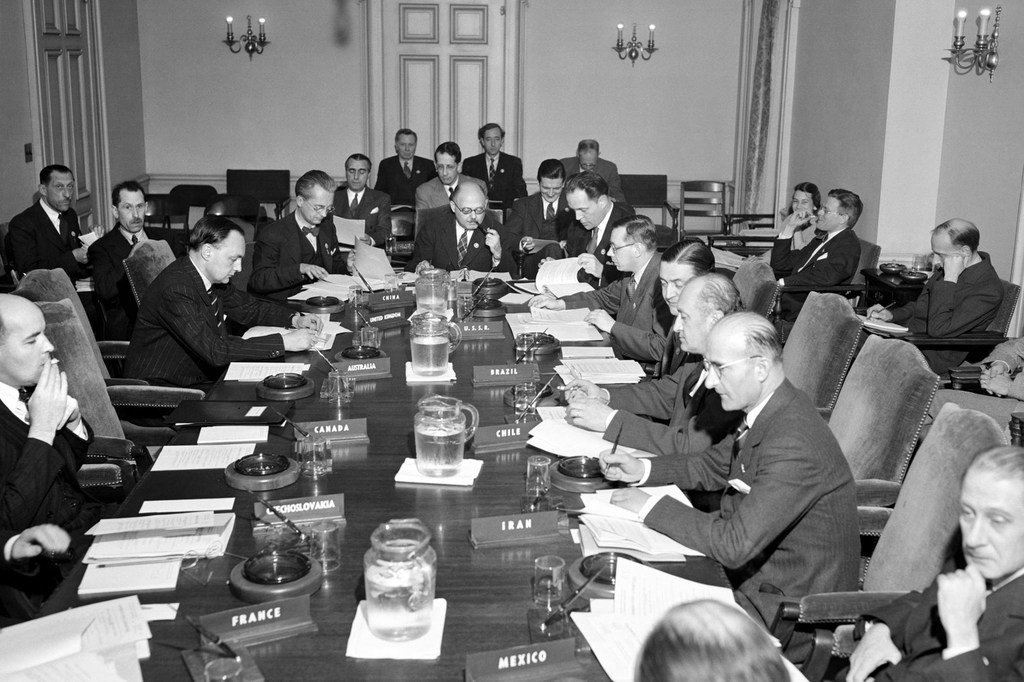 24 May 1945 - Along with delegates from 50 nations, Gladwyn Jebb (seated at the table, second from left), representing the United Kingdom, attends a meeting of the Coordination Committee at the Conference on International Organization in San Francisco, which led to the production of the
UN Charter
. In all, the San Francisco Conference was not only one of the most important in history but, until that time, possibly one of the largest international gatherings ever to take place.
At the age of 45, Gladwyn Jebb was already something of a Foreign Office legend. He gave new meaning, both in appearance and attitude, to the word "patrician." He was tall, sleek, immaculately dressed, and completely self-confident, but he also had original ideas and liked interesting and unfashionable people. At Oxford, he had been one of Sligger Urquhart's coterie of promising young men and, as a young diplomat, he had always had interesting postings—Constantinople, Berlin, Rome. There were lots of stories, probably largely apocryphal, about his arrogance. Gladwyn's wife Cynthia looked like a Dresden porcelain figurine and behaved like a true Edwardian grande dame. She was a formidably perfect British ambassador's wife.
Early in the war, somewhat to his dismay, Gladwyn had been chosen to lead the British team in the international group that was designing the post-war international system. He made such an impression on his foreign colleagues that when the time came, they appointed him Executive Secretary of the UN Preparatory Commission, which was to build a working organization on the specifications of the United Nations Charter. It was at this point in his career that I joined him in London.
I soon found that Gladwyn's allegedly overbearing manner concealed an essentially kind and humorous nature. Our headquarters in London was in Church House, Westminster—in normal times, the head office of the Church of England. The House of Lords had sat there during the war after it had been bombed out of its own chamber. The building was encased in sandbags and barbed wire and guarded by a detachment of Royal Marines. One evening early on, Gladwyn and I, returning to the office after dinner, were challenged by the Marine sentry and required to show our passes. I was still in uniform, and the sentry saluted me when I showed my pass. Gladwyn had forgotten his pass and was barred from entering. He was quite irritated when I pointed out that he himself had ordained that none could enter the building without a pass. "Doesn't this man know who I am?" he asked rather plaintively. (The sentry had begun to mutter about "pinstriped gents—think they're everybody" etc.) "Of course he doesn't," I said, "but I'll explain it to him." After an exhortation not to forget his pass in the future, the sentry finally allowed Gladwyn to enter. For some reason, he was delighted with this small incident and frequently recounted it against himself.
Some highlights from the career of Gladwyn Jebb, the British diplomat who served as the Executive Secretary of the UN Preparatory Commission, the Acting Secretary-General of the United Nations, and, later, the UK Permanent Representative to the United Nations.
Gladwyn was wonderful to work with and to learn from. He knew more about the nascent UN and its political context than anyone else. The members of the commission—Adlai Stevenson, Andrei Gromyko, Ernest Bevin, Lester Pearson, Jan Massaryk and others—were his friends. When Gromyko tried to rebuke him during a meeting, Gladwyn replied, "I tremble." He recruited an expert staff, but there was no question as to who was in charge. Gladwyn could do everything as well as, or better than, any of us. While inspiring mild trepidation, he was liked and respected by everyone he dealt with.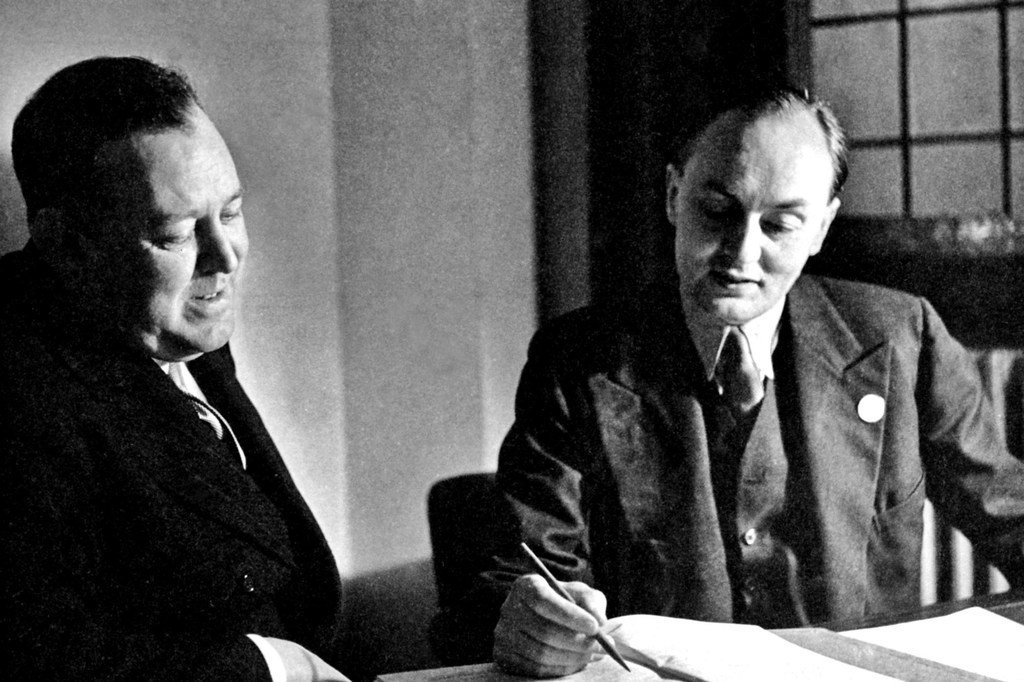 1 January 1946 - Gladwyn Jebb, in his role as Executive Secretary of the United Nations, meets with Trygve Lie of Norway, who became the first elected UN Secretary-General. Prior to the latter's appointment, Jebb served as the Organization's Acting Secretary-General from October 1945 to February 1946.
Most important of all, for all his outward aloofness Gladwyn passionately believed in what he was doing. Ernest Bevin, a man not given to flattery, said that Jebb had "done more than any other man, official, or politician, to make the UN into a 'living thing.'" He was one of the main architects of the new international system, and he believed deeply in its importance while being very much aware of the obstacles and the conflicting forces that would make its work so difficult. He knew that a perfect international organization was an impossible dream but that an imperfect one was a great deal better than nothing, and might well be an indispensable factor in avoiding a nuclear world war. Years later, he summarized these feelings:
This turned out to be a good description of the role of the UN during the Cold War.
When Trygve Lie of Norway was elected Secretary-General, Gladwyn went back to the British Foreign Office and I became Lie's personal assistant and realized that I had been badly spoiled by having Gladwyn as my first civilian boss. After four years, Gladwyn came to New York as British ambassador to the UN. When the Korean War started in 1950, television was just entering American living rooms and the Security Council's debates on the war were one of the first broadcast television debates.
Gladwyn was an extremely skillful and, if necessary, withering debater. The Soviets, who had foolishly been absent when the Council decided to intervene in Korea, did everything they possibly could to obstruct and vilify the UN's Korean operation and sent their toughest diplomat, Jakob Malik, to New York. (Malik subsequently became head of the KGB). Malik's blunderbuss style was particularly vulnerable to Gladwyn's rapier thrusts, and their encounters in the Council debates became an early hit on American television. Gladwyn didn't let up even when Malik became the president of the Security Council. "Your whole thesis, Mr. President," he would say, "which you have so obligingly explained, and to which your last effort has contributed nothing, is as follows..."
Among men struggle is inevitable—if only because life is a struggle… So in order that mankind should not destroy itself totally in its struggles, it is essential to have some place… in which reason, or law, can be brought to bear on conflicts, either for preventing them or for ending them in accordance with certain generally accepted rules. We must not despair if these rules are often violated or more frequently ignored, or even if the Super-Powers sometimes fail to make use of the machinery altogether. The great thing is that it should be there. And when the abyss really yawns before them, I believe that this time… it is to the United Nations that the nations will turn.
The British UN mission was submerged in fan mail. Evelyn Waugh wrote to Nancy Mitford that Gladwyn had become the "idol of American girlhood." The New Yorker had a cartoon of a speed cop saying to his victim, "Oh—if you work for Gladwyn Jebb, you'd better get a move on." I don't think Gladwyn was too much impressed by all this adulation.
In 1953, near the end of Gladwyn's time in New York, Dag Hammarskjold succeeded Trygve Lie as Secretary-General. Gladwyn, together with his French colleague Henri Hoppenot, had nominated Hammarskjold in the Security Council, having got the measure of his exceptional quality when they had both worked with him on setting up the Office of European Economic Cooperation. Without telling me, Gladwyn strongly advised the new Secretary-General to take me into his own office. To my great surprise, Hammarskjold immediately took action on this advice, and I never had another dull moment at the UN.
After he left New York, I saw Gladwyn and Cynthia only occasionally. He was a great ambassador to France, and Cynthia did wonders in restoring the Paris embassy. Her diaries, unfortunately heavily expurgated, are a small masterpiece. Gladwyn became a Liberal peer and spent much of his later years promoting a united Europe. Whenever one saw him, the first thing he said was, "I suppose you read my last speech in the House of Lords." He died a widower in his early nineties.
Gladwyn embodied several great British traditions: the classical education that sharpened, clarified, and elevated the mind, and provided the intellectual muscle to master the most complex subject matter; enlightened public service without pettiness or partisanship; and the patrician style that effortlessly exercises authority. Much of Gladwyn's England has now, sadly, vanished.