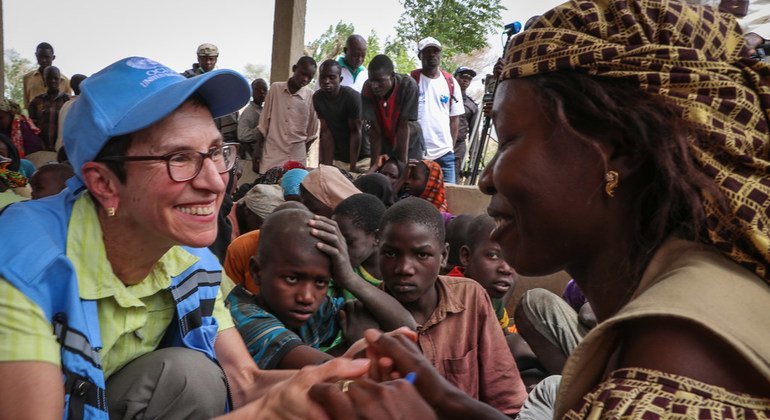 OCHA/Eve Sabbagh
CAR is facing a large-scale humanitarian crisis...Violence is fast spreading across the country while urgent and critical needs are increasing and should be covered. Civilians continue to bear the brunt of violence and insecurity.
UN Deputy Emergency Relief Coordinator Ursula Mueller during a visit to the capital, Bangui, 22 Feb '18
Overview
Plagued by decades of instability and fighting, the impoverished Central African Republic (CAR) witnessed a resumption of violence in December 2012 when the mainly Muslim Séléka (meaning 'alliance' in the local Sango language) rebel coalition launched a series of attacks. A peace agreement (Libreville Agreement) was reached in January 2013, but the rebels seized the capital, Bangui, in March, forcing President François Bozizé to flee. A transitional government has since been established and entrusted with restoring peace. The conflict however has taken on increasingly sectarian overtones by December as the mainly Christian anti-Balaka (anti-machete) movement took up arms and inter-communal clashes erupted again in and around Bangui.
Months of violence led to wrecked State institutions, leaving millions on the brink of starvation and threatened to suck in the wider region. Thousands of people are believed to have been killed, and 2.5 million, more than half of the entire population, need humanitarian aid. As of March 2014, more than 650,000 people have been internally displaced, with more than 232,000 in the capital, Bangui, alone. This included 70,000 people who were living at a site for internally displaced persons (IDPs) at the airport in "appalling" conditions. Over 290,000 people have also fled to neighbouring Cameroon, Chad, the Democratic Republic of Congo and the Republic of Congo.
Since the beginning of the crisis, the United Nations, its Secretary-General as well as other international and regional actors, including the Economic Community of Central African States (ECCAS), the African Union (AU), the European Union (EU) and France, have worked tirelessly trying to find a peaceful resolution of the conflict, stop the killings, protect civilians and provide humanitarian relief.
UN Peacekeeping
On 10 April 2015, the Security Council, by its resolution 2149 (2104), established the United Nations Multidimensional Integrated Stabilization Mission in the Central African Republic (MINUSCA). 
Humanitarian Situation
The Central African Republic remains a fragile country. Devastated by years of conflict, the impact of which persists, it faces both structural and economic challenges. Multiple tension hotspots and violence have sprung up across the country in 2017 and have spread to areas that once enjoyed some stability. The violence has significantly increased humanitarian needs and caused waves of displacement that the Central African Republic had not seen since 2014. More than 688,000 internally displaced persons in January 2017 and more than 546,000 refugees in neighboring countries.