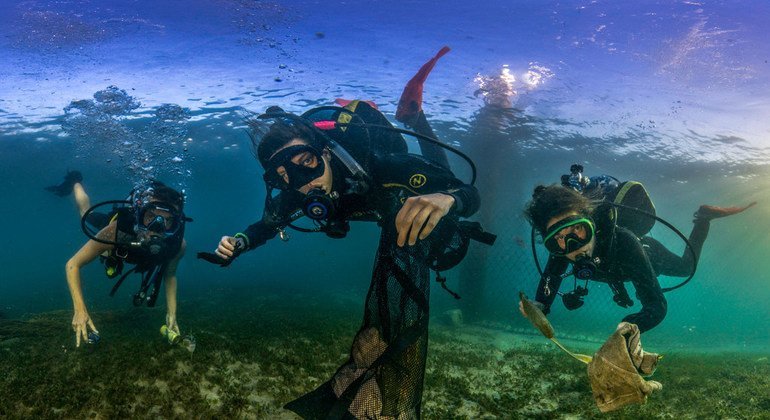 Underwater photographers have been drawing attention to the dangers of plastic pollution in oceans across the world as part of a competition to highlight World Oceans Day. Diver and photographer, Rosie Leaney said: "'I took the picture at Manly Cove in Sydney, Australia where there is a lot of plastic pollution from the surrounding bars, fast food outlets and restaurants. My dive centre runs a massive 'Dive Against Debris' event there every couple of months with about 80- 100 people in the water cleaning up!"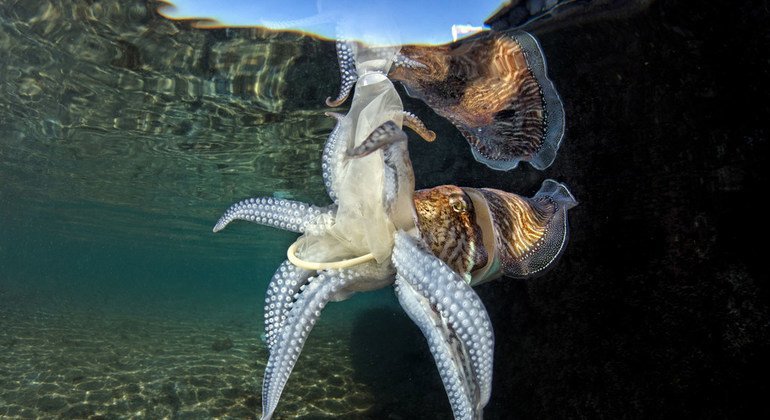 Fish and other marine life often mistake plastics for food, which if ingested can be fatal.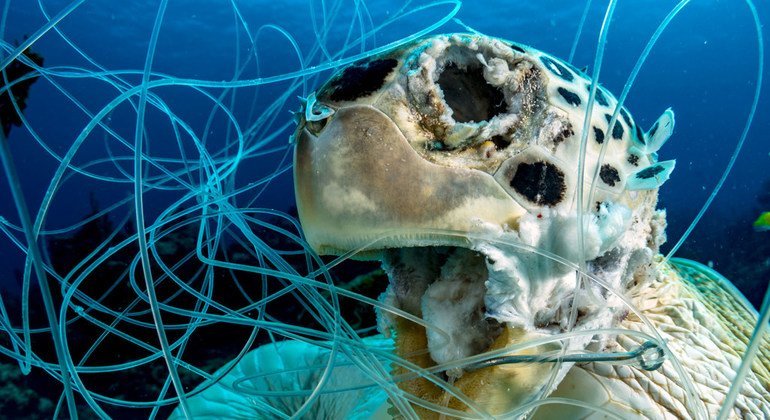 Discarded fishing lines and hooks are also deadly; this decomposing green turtle was ensnared in the Bahamas in the Caribbean Sea.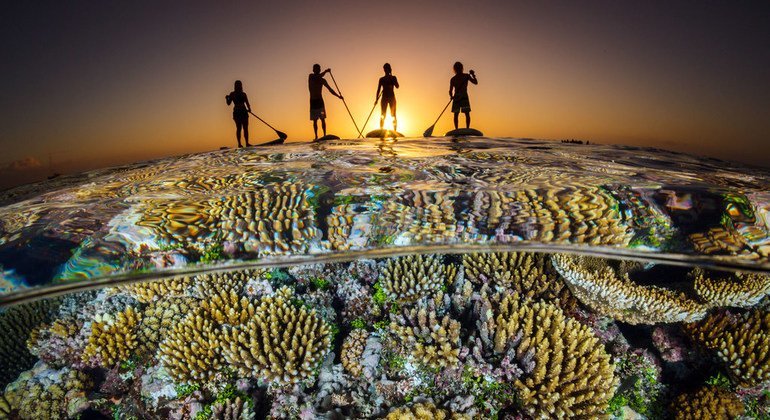 The World Oceans Day photo competition explores not just the threats to marine ecosystems but also "the beauty and importance of the ocean and humankind's relation to it." Grant Thomas says his image of paddle boarders from the Pacific island of Tonga demonstrates "the innate bond humans have with the ocean, whether we are physically in it or floating on the surface. Our inherent relationship with the ocean is eternal and we must care for it in a way that ensures sustainability for the future."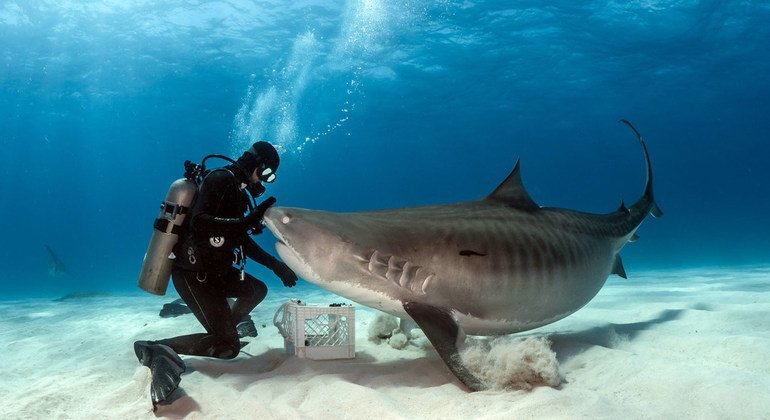 Hoarau Galice's photograph of a tiger shark interacting with a diver in the Bahamas shows the sometimes intimate relationship between humans and marine life.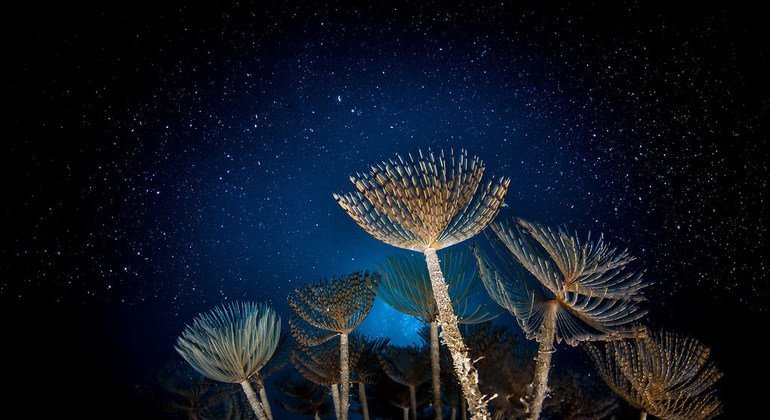 The competition also celebrates the beauty of the marine environment above and below the water line. Domenico Tripodi's image of dusted feather worms was taken in Reggio Calabria, Italy, in the Mediterranean Sea.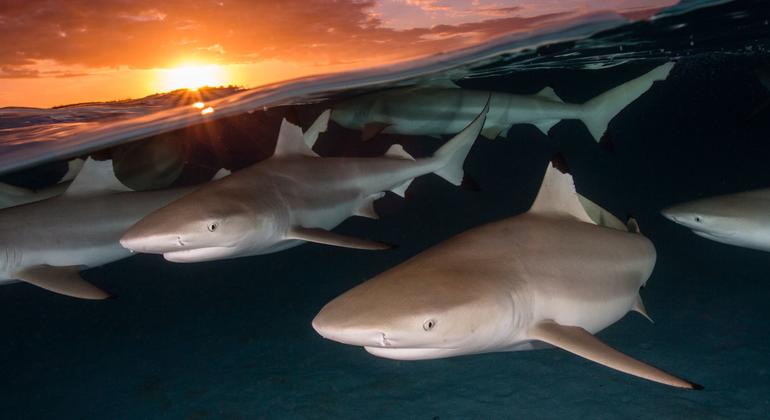 UN World Oceans Day aims to raise global awareness of the "benefits humankind derives from the ocean and our individual and collective duty to use its resources sustainably." Here, blacktip reef sharks bask at sunset in Mooreo, French Polynesia.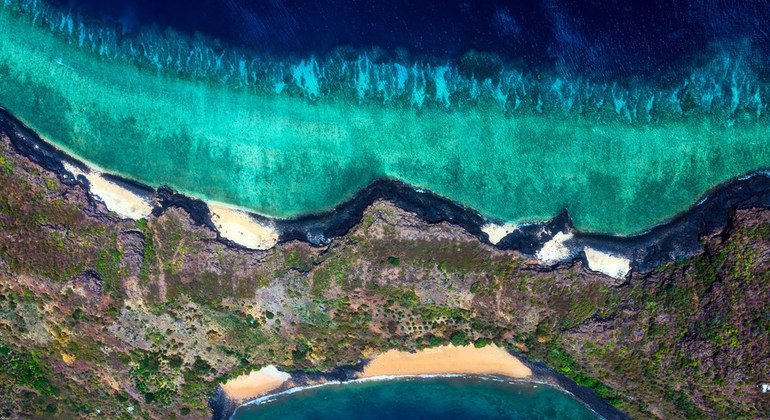 World Oceans Day is marked annually on 8 June. Gaby Barathieu shot this aerial view of the Indian Ocean over Mayotte. For more information on the World Oceans Day photo competition https://www.unworldoceansday.org/index.php/world-oceans-day-photo-competition