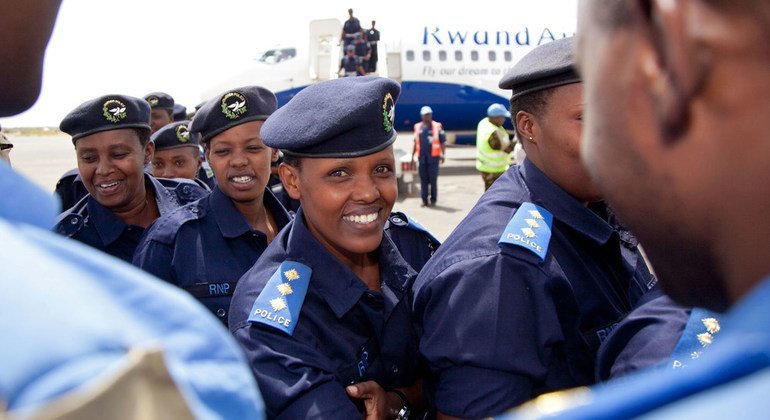 After suffering its own genocide, Rwanda now contributes many personnel to missions that have protection-of-civilian mandates. "It is particularly commendable that a nation that has endured the worst atrocities should risk its soldiers to ensure those atrocities cannot happen elsewhere," said UN Secretary-General Antonio Guterres.

Rwanda began with a modest contribution in May 2005 with the deployment of one military observer to the UN Mission in Sudan (UNMIS). Seen here is the arrival in October 2010 of 89 Rwandan policewomen to the Darfur region of Sudan to serve with UNAMID.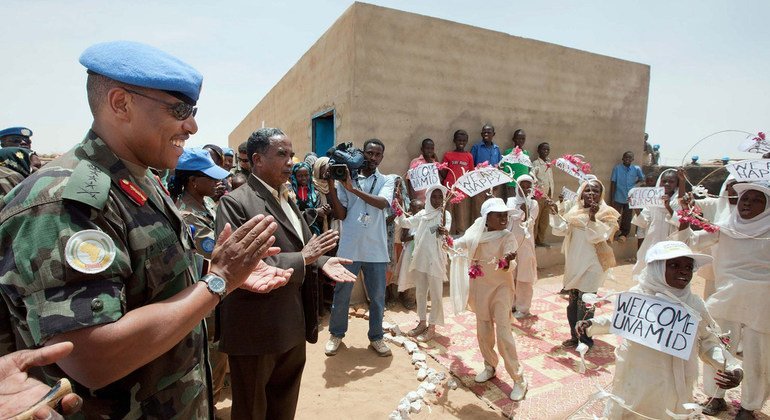 In April 2012, UNAMID Force Commander Lieutenant General Patrick Nyamumbwa of Rwanda (left) celebrates the opening of 10 new classrooms in three primary schools in the Abu Shouk camp for internal displaced people in North Darfur. The classrooms were built by Rwandan peacekeepers.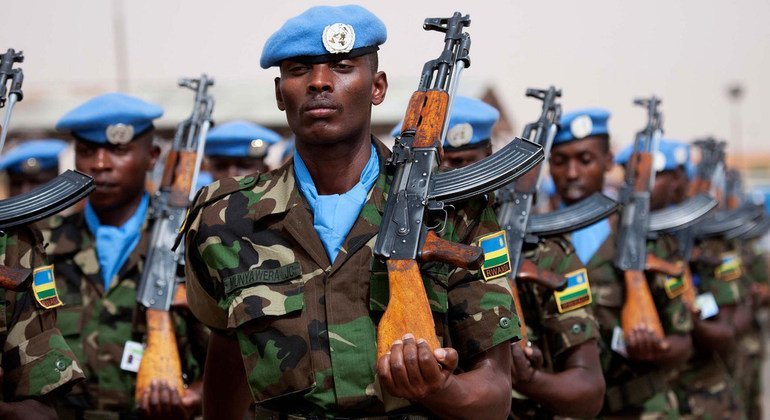 Rwandan peacekeepers march at UNAMID's headquarters in El Fasher during the 2012 commemoration of the International Day of United Nations Peacekeepers. Observed annually on 29 May, the Day offers a chance to pay tribute to the contributions of uniformed and civilian personnel to the work of the Organization and to honour peacekeepers who have lost their lives while serving under the UN flag.
UNAMID's Rwandan peacekeepers are seen here escorting the mission's staff working on child protection as well as disarmament, demobilisation and reintegration, on a July 2015 trip from El Fasher to Kafoud in North Darfur. The nearly 65-kilometer journey took more than three hours due to difficult road conditions.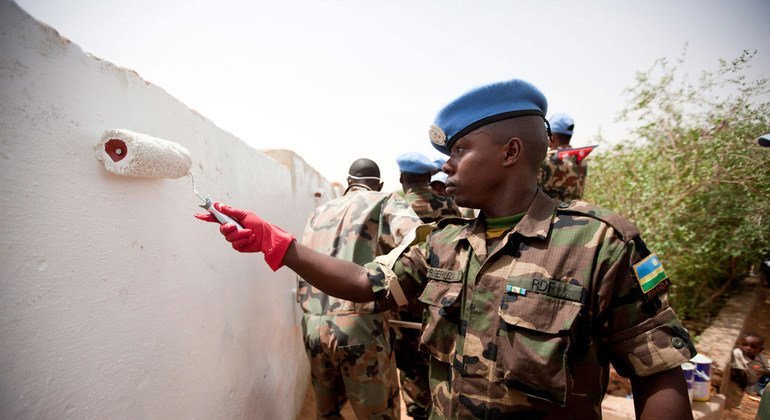 A UNAMID peacekeeper from Rwanda paints a wall at the Alfaki Abdallah Albigawi Basic Level School for girls in El Fasher, North Darfur, as part of the commemoration of the 2011 Nelson Mandela International Day. Every year on 18 July — the day Nelson Mandela was born — the UN asks individuals around the world to mark the International Day by making a difference in their communities.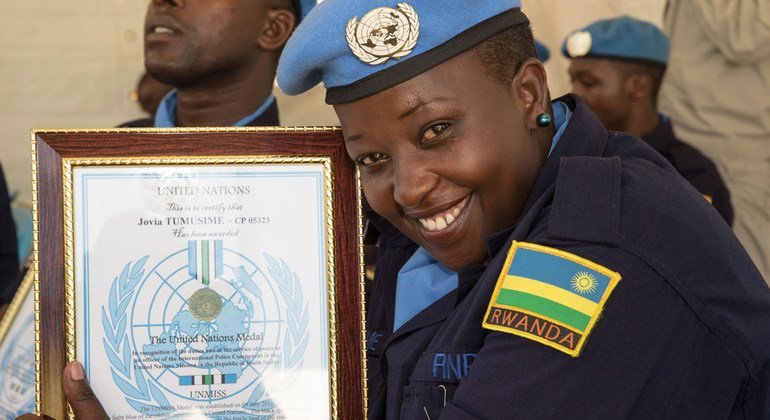 Twenty-seven Rwandan police officers serving with the UN Mission in South Sudan (UNMISS), including six women, received their service medals during a ceremony held in the capital, Juba, in September 2015.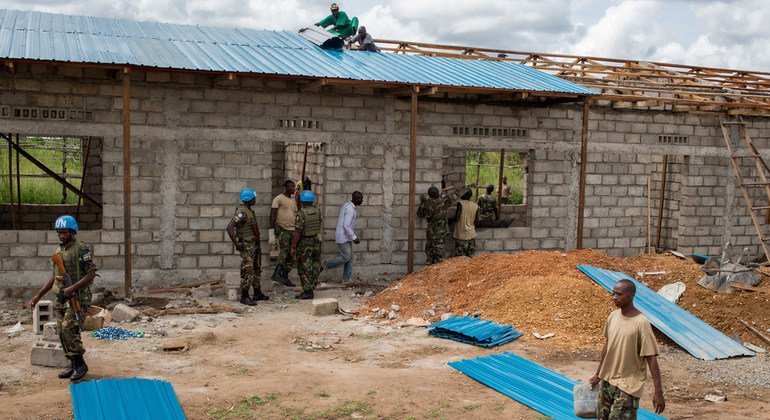 Rwandan peacekeepers serving with UNMISS work with the local community to construct a new school for children in Kapuri in October 2014. The old school consisted of incomplete classrooms fashioned from sticks, with no restrooms, in a space far too small for the 420 students who regularly attend. The new facility contains classrooms, toilets, and staff offices.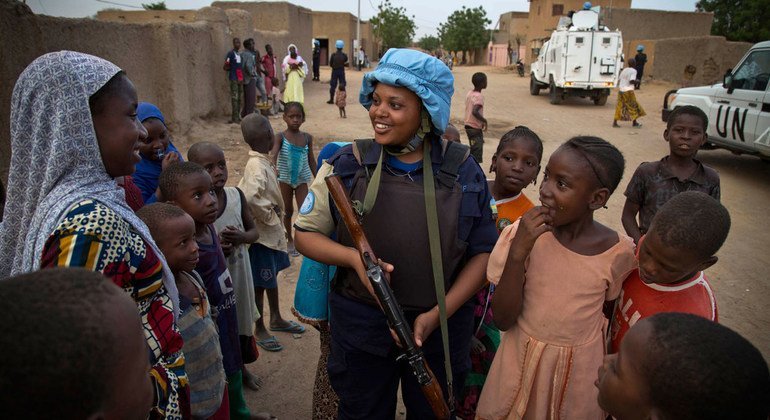 A Rwandan police officer serving with the UN peacekeeping mission in Mali (MINUSMA) is seen here speaking to the local population during a patrol in the northern town of Gao in May 2014.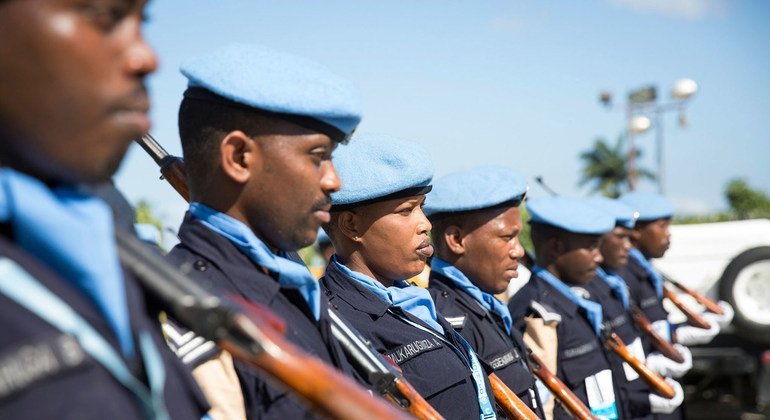 Members of the Rwandan Formed Police Unit of the UN mission in Haiti (MINUJUSTH) are seen here during the February 2018 visit to Jeremie of Bintou Keita, the Assistant-Secretary-General for Peacekeeping Operations.