Morocco earthquake: UN stands ready to support relief efforts
Humanitarian Aid
The UN chief expressed his profound sadness over the deadly earthquake that struck central Morocco late on Friday night which latest media reports say has killed over 2,000 people, and left well over 1,000 seriously injured. Mr. Guterres declared his solidarity with the Government and people of the country.
In a statement issued by his Spokesperson, Secretary-General António Guterres stressed that the UN was ready to assist the Government in any way needed, to help those impacted. 
According to the UN humanitarian hub Reliefweb, the powerful quake struck shortly after 10pm local time, measuring 6.8 on the Richter scale at a depth of 18.5 km, with the epicentre located in the High Atlas mountains, some 71 km southwest of the historic city of Marrakech.
According to media reports, several houses in the city of 840,000 collapsed and other buildings suffered structural damage. The epicentral zone is not densely populated.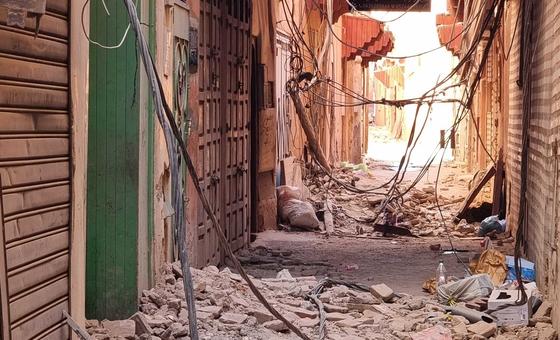 "The Secretary-General was profoundly saddened to learn of the earthquake that hit Morocco today which claimed many lives," the statement read.
'The UN is by your side'
Mr. Guterres addressed his most sincere condolences to the families of the victims and wished a speedy recovery to the injured.
In a tweet, the President of the UN General Assembly, Dennis Francis, offered his heartfelt sympathy and condolences, calling on the international community "to stand together in support of Morocco in this time of sorrow."
Amina Mohammed, the UN Deputy Secretary-General, also responded on social media platform X, saying that her "prayers and thoughts" are with the people of Morocco.
"The UN is by your side as we strive to recover," she wrote.
'Search and rescue'
Nathalie Fustier, UN Resident Coordinator in the country, spoke to UN News and reiterated that UN teams are ready to provide whatever support is required. 
She told us information was still scarce and hard to verify given that the epicentre of the quake was in a remote mountainous area which is hard to access. 
Based on what is known so far, she said the death toll was likely to be more than 1,000, with several hundred were injured.
Asked to assess the needs of the people in the affected areas, Ms. Fustier said: "I think right now it's really search and rescue and maybe blood and medical assistance for people that are still in the areas without good medical support, but also maybe food."
She assured that the UN, both on the country level and globally stands ready to join forces with the Government of Morocco, which is providing a quick response to the disaster. "We have seen that there is a huge mobilization and, again, we stand ready to assist".