Outgoing UN official praises Iraq's 'exemplary peaceful transfer of power' at the top
Peace and Security
In his last briefing as the top United Nations official in Iraq, Ján Kubiš updated the Security Council on the country's post-election political settlement, commending the "exemplary peaceful transfer of power" between Prime Minister Haider al-Abadi and his successor, Adel Abdul-Mahdi, who was sworn in at the end of October.
"The new Government intends to start immediately, particularly on the delivery of services and jobs, on reforming and energizing the economy, fighting corruption and administrative red-tape," he said, calling on the international community for its continued support. "We must not let them down."
He noted that during the government formation process, competition and differences had been "largely political and not sectarian," calling it, "a break from the past."
Pointing out that the main negotiations had been carried out by political factions including the influential cleric Moqtada Al-Sadr and Hadi al-Ameri on behalf of their respective Islah and Binaa blocks, Mr. Kubiš said it signified "that all of these primary partners and political forces now share a responsibility for creating an enabling environment for the new government to deliver on its programme, and for its stability."
He told the Council that the new Government's agenda, which includes UN advisory inputs, intends to improve the daily lives of Iraqi citizens, through job-creation reconstruction of liberated areas; and the return of more internally-displaced people.
"The programme aims at strengthening security, fighting terrorism, enhancing law and order and the rule of law…by putting all arms under the strict control of the State," he elaborated, adding that special attention would be given to resolving challenges with the Kurdistan Region, including the issues of budget allocation and financial resources, oil and disputed areas.
Mr. Kubiš outlined the new government's intention to implement robust measures for improved, sustainable security throughout the country, and to intensify efforts to uproot the remaining Da'esh, or ISIL terrorist cells.
Moreover, security measures place for the Arba'een pilgrimage were successful.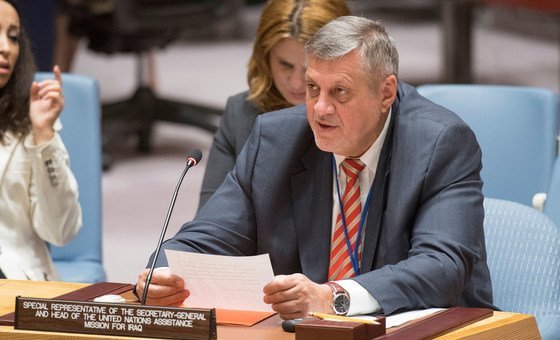 "Among the 15 million pilgrims, close to two million foreign visitors were recorded to have legally and safely entered Iraq," he asserted. "Efforts to disturb this massive movement of people failed."
Iraq now 'a positive story'
Noting the discovery of 202 mass graves in former Da'esh-controlled territory, Mr. Kubiš asserted that UNAMI "continues to advocate for justice and accountability for international crimes," pointing out to Council members that Karim Khan, Head of the UN Investigative Team to promote accountability for Da'esh crimes, arrived in Iraq last month.
He also stated that UNAMI had established a Women Advisory Group on Reconciliation and Politics in Iraq (WAG) to ensure that the voices, concerns and experiences of Iraqi women are included in political processes that shape national reconciliation, based on the principles of peaceful coexistence, respect for diversity and non-discrimination.
Acknowledging that this would be his last Council briefing, he summarized his tenure as having served the UN and Iraq "during a particularly difficult period that has against all odds and skepticism ended well, with a promising future prospect for the country and our role in assisting it."
He called Iraq "a success, a positive story, in a region marked by many negative trends and developments" in which the UN has shown its relevance and "will continue to build on the firm foundations of its ongoing partnership with Iraq and its people."
Mr Kubiš will be succeed by Dutch national Jeanine Hennis-Plasschaert, who has more than 20 years of political and diplomatic experience, including having served in several high-level Government and parliamentary positions.