UN receives 'Humanium' wristwatch gift, symbolizing peaceful transformation
Peace and Security
On Friday, the United Nations disarmament chief was presented with a watch that does more than just tell the time. Made from "Humanium" – a metal processed from confiscated firearms in El Salvador – it symbolizes how peaceful transformation can be wrought from bloody conflict.
The illicit flows of small arms and light weapons, known as SALW, undermine security and the rule of law, and is often a key driver of displacement and widescale human rights violations.
By melting arms down into Humanium, they can be repurposed into watches that turn each hour of the day into a reminder of the global suffering caused by SALW.
On behalf of the organization behind the metal, IM Swedish Development Partner, Peter Brune and Birthe Müller presented a Humanium-made watch as a symbolic gift to Izumi Nakamitsu, High Representative for Disarmament Affairs.
The watch will be displayed in a special location on the third floor of the UN General Assembly building, in the permanent disarmament collection.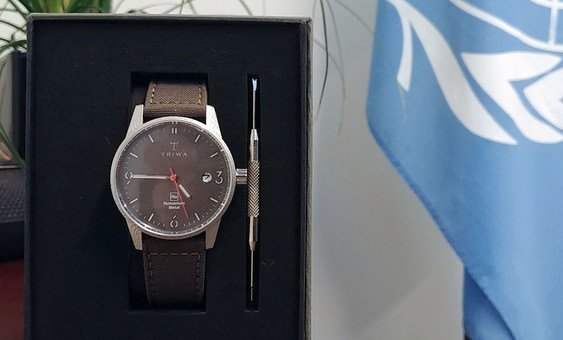 Noting the number of school tours that visit the exhibition, Ms. Nakamitsu shared her hope that this latest installation will help youth to feel a real-life connection to disarmament.
Mr. Brune, who came up with the Humanium idea, explained its potential to increase the socio-economic and political security for people living in areas plagued by violence, not only by repurposing the seized weapons, but also by employing local workers to make the transformation.
Moreover, the profits generated by the sale of Humanium metal products are reinvested into the affected community.
"We are all consumers," he said. "If I can opt for a consumption that is sustainable, that is responsible, and where my daily action as a consumer can contribute to reducing armed violence, I think that's a beautiful thing," he continued, adding his hope "that we will soon see a number of Humanium products in the market."
Having spent more than two years establishing a supply chain for Humanium metal, Mr. Brune has developed close ties with governments and local non-governmental organizations in violence-affected countries to keep the work progressing forward.
Moreover, recognizing how illegal firearms destabilize sustainable and democratic development, he underscored how the idea can have a hand in promoting peaceful and inclusive societies for sustainable development – contributing to the Sustainable Development Goals (SDGs).
According to Mr. Brune, the initiative inspires consumers, businesses and authorities to join hands in finding a solution to one of the world´s greatest problems.
"Having this watch, made from destroyed weapons, in the exhibition will be a strong reminder that we can do much, much more to save lives," High Representative Nakamitsu concluded.