The United Nations and partners concluded a six-day humanitarian aid operation, providing lifesaving aid to around 50,000 mostly women and children living in southeast Syria's Rukban camp ­– the first supplies they had received since January.
"Children and women in Rukban have had extremely limited access to health services amid worsening conditions," Fran Equiza, the UN Children's Fund (UNICEF) Representative in Syria said on Friday.
UNICEF, along with the Syrian Arab Red Crescent and other UN partners, completed one of the most complex humanitarian operations of the Syrian relief effort, with over 75 trucks and more than 100 aid and logistics workers involved.
"I barely eat anything at all because my priority is to feed my children," a mother told UNICEF, saying "I get dizzy when I breastfeed these days."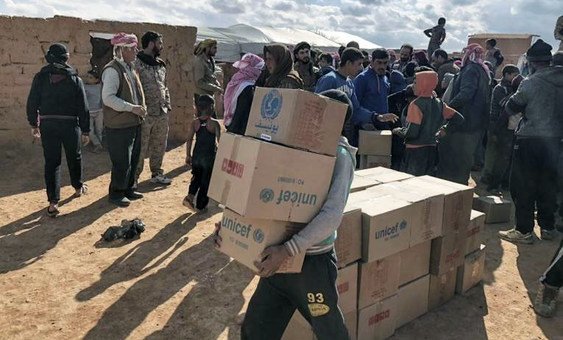 UNICEF's supplies sent with the convoy included much-needed health, nutrition, water and sanitation supplies in addition to winter clothing for children under-14 years old and basic medicines, including antibiotics.
In a recent statement, Secretary-General António Guterres called the long-awaited delivery "an important achievement," but underscored that the overall humanitarian access to the informal desert camp was "wholly inadequate."
According to news reports, developments at Rukban, which borders Syria, Jordan and Iraq, are being watched closely around the region. Amidst security concerns, Jordan had closed the border as tens of thousands of Syrians trekked to the camp over the past three years, fleeing expanded Russian and US-led coalition air strikes against areas held by ISIL or Da'esh terrorist fighters, in central and eastern Syria.
UNICEF sent 21 trucks of humanitarian assistance and supported 21 vaccinators with vaccines, cold chain refrigeration equipment and medical supplies to immunize 10,000 children against measles, polio and other childhood diseases in the camp.
"UNICEF advocated extensively with all relevant parties to include vaccinators in the convoy to protect children against life-threatening diseases," added Ms. Equiza.
Dr. Husam Eddine Baradee, UNICEF's Health and Nutrition Officer accompanied the convoy: "Most children under-five years old had never been vaccinated," he explained, saying that "despite the challenges, we were able to vaccinate 5,100 children in the few days we had access to the camp, yet we absolutely need sustained access as thousands more children still need to be immunized."
UNICEF staff described the camp's conditions as dire, with many having to survive on just one meal a day.
UNICEF called on all parties to the conflict to allow the voluntarily return of the displaced, either to their homes or to a place where they can live in safety and dignity; and to guarantee sustained humanitarian access to deliver assistance to all children in Rukban and elsewhere in Syria.