FROM THE FIELD: Photos highlight agony of West African civil wars
Peace and Security
The role of two photographers who raised global awareness of civilian suffering during Liberia's brutal civil war, is being celebrated in a new photographic exhibition which opens on Friday night in New York, supported by the UN Department of Peacekeeping Operations.
Tim Hetherington and Chris Hondros took photographs from both sides of the front line documenting the destruction and chaos of the conflict in the West African country in the 1990s and early 2000s.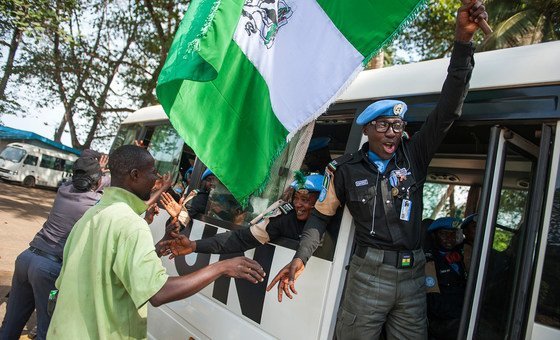 The United Nations established its first peacekeeping mission in Liberia in 1993 with the goal of implementing a peace agreement, and missions followed in Sierra Leone and Côte d'Ivoire which were also suffering from conflict.
A quarter of a century later all the peacekeeping operations in this region of West African known as the Mano River Basin successfully completed their mandates to maintain peace and stability and have closed down.
Read more here on 25 years of peacekeeping in the Mano River Basin and to find links to the exhibition, which runs until 16 December, at the Bronx Documentary Center.