UN declares end to Ebola virus transmission in Guinea; first time all three host countries free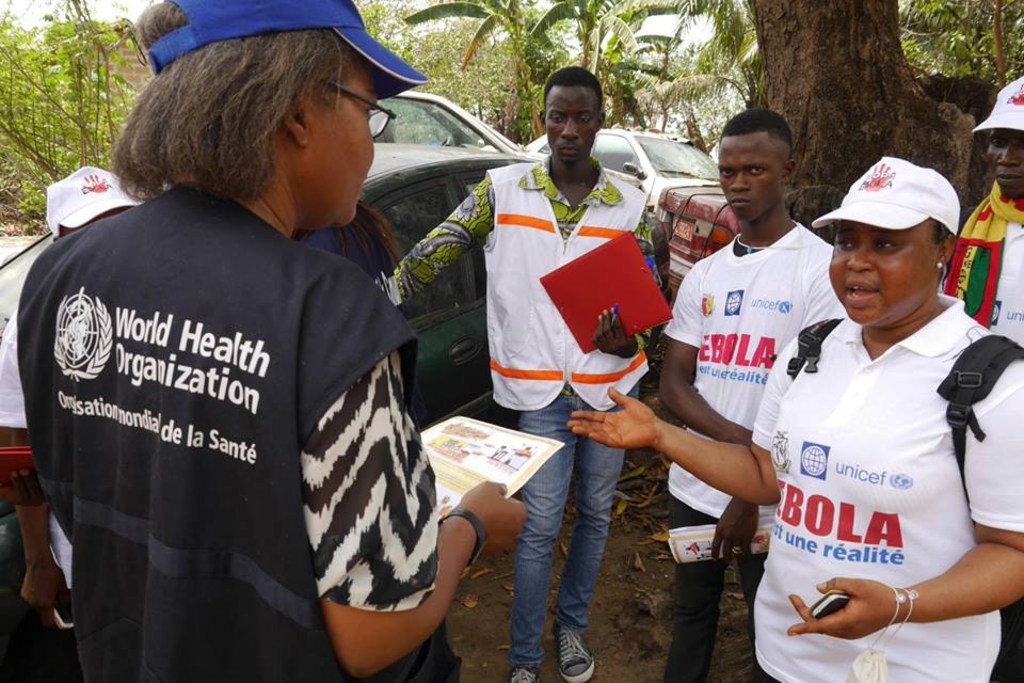 UN declares end to Ebola virus transmission in Guinea; first time all three host countries free
Health
The United Nations health agency today declared the end of Ebola virus transmission in Guinea, where the epidemic began two years ago before spreading to neighbouring Liberia and Sierra Leone and, ultimately by land and air travel to seven other countries, killing over 11,300 people.
But experts called for continued vigilance against any new outbreak stemming from the virus's lingering in male semen even after the bloodstream has been cleared.
"This is the first time that all three countries – Guinea, Liberia and Sierra Leone – have stopped the original chains of transmission that were responsible for starting this devastating outbreak two years ago," World Health Organization (WHO) Regional Director for Africa Matshidiso Moeti said in a news release, of the largest-ever epidemic of the deadly disease.
"I commend the governments, communities and partners for their determination in confronting this epidemic to get to this milestone. As we work towards building resilient health care systems, we need to stay vigilant to ensure that we rapidly stop any new flares that may come up in 2016."
Forty-two days have now passed since the last person in Guinea confirmed to have Ebola virus disease tested negative for the second time, and the country now enters 90 days of heightened surveillance to ensure that any new cases are identified quickly before they can spread to others.
"WHO and its partners will continue to support Guinea during the next 90 days of heightened surveillance and in its early efforts to restart and strengthen essential health services throughout 2016," WHO Representative in Guinea Mohamed Belhocine said.
"We must render homage to the Government and people of Guinea who, in adversity, have shown extraordinary leadership in fighting the epidemic."
Apart from the original chain of transmission, there were 10 new small outbreaks between March and November, apparently due to the re-emergence of a persistent virus from survivors. One challenge is that after recovery and clearing the virus from the bloodstream, the virus may persist in the semen of some male survivors for as long as nine to 12 months.
WHO and its partners are working with the Governments of Liberia, Sierra Leone and Guinea to help ensure that survivors have access to medical and psychosocial care, screening for persistent virus, as well as counselling and education to help them reintegrate into family and community life, reduce stigma and minimize the risk of Ebola virus transmission.
"The coming months will be absolutely critical," WHO Special Representative for Ebola Response Bruce Aylward said. "This is the period when the countries need to be sure that they are fully prepared to prevent, detect and respond to any new cases.
"The time-limited persistence of the virus in survivors which may give rise to new Ebola flares in 2016 makes it imperative that partners continue to support these countries. WHO will maintain surveillance and outbreak response teams in the three countries through 2016."
At the same time, 2016 will see the three most-affected countries implementing a full health sector recovery agenda to restart and strengthen key public health programmes, especially maternal and child health, while continuing to maintain the capacity to detect, prevent and respond to any flare-up of Ebola.
Welcoming WHO's declaration, the UN Children's Fund (UNICEF) cautioned that thousands of children orphaned by the disease as well as those who survived infection will need continued support, noting that it is almost two years to the day when a toddler became the first victim.
"While we mark this occasion, we must all remember that children were greatly impacted by Ebola. They were more likely to die if infected," UNICEF Guinea Representative Mohamed Ag Ayoya said.
"Over 22,000 children lost one or both parents in Guinea, Liberia and Sierra Leone. They are traumatized and continue to be stigmatized in their neighbourhoods. For thousands of girls and boys, the outbreak does not end today. It will be with them throughout their lives. Let us commit to be with them too."
In Guinea alone, 6,220 children lost one or both parents or their primary caregiver, while 230 survived infection and 519 were killed by Ebola.
Since the beginning of the outbreak UNICEF has provided much needed supplies, deploying social mobilizers to educate communities, providing water and sanitation, supporting orphans and other affected children and ensuring that all girls and boys could continue their education.
Experience in the three worst-affected countries has demonstrated that, with the proper preparation, children can go to school even during an epidemic.
The outbreak showed just how important it is that communities are at the heart of any emergency response. UNICEF and partners have worked to establish community-based networks to ensure that the people themselves were taking the lead in the response.
In Guinea, where there was no universal mass media outlet to deliver life-saving messages to all of the people in more than 20 languages and dialects, UNICEF built six new community radio stations and rehabilitated 23 existing ones to fill a vacuum where rumours and fear spread easily.
"With generous support of our donors, UNICEF and our implementing partners will continue rebuilding the health system. The long road ahead requires a sustained and robust follow-up to ensure that Ebola can find no safe haven here," Mr. Ayoya said.
World Bank Group President Jim Yong Kim congratulated the Government and people of Guinea on reaching "this important milestone," but called for continued vigilance to stay at zero cases. The Group has mobilized $1.62 billion for Ebola response and recovery efforts.
"The World Bank Group is committed to supporting Guinea, Liberia and Sierra Leone as they work to bring this deadly epidemic to an end, rebuild their economies and strengthen their health systems. We will do everything we can to help these countries and the world prevent another deadly pandemic."