Addressing the United Nations General Assembly this afternoon, the Foreign Minister of Sudan pledged to work for peace and respect for human rights in the country's vast and blighted Darfur region, but denounced a Security Council resolution threatening sanctions in the absence of action.
Mustafa Osman Ismail said the fighting in Darfur stemmed from the actions of rebels, who attacked tribes that refused to join their ranks. The Government had attempted to restore peace and avoid civil war, but the conflict led to "extremely complicated human conditions" which Khartoum responded to through special measures, including lifting all restrictions on relief workers. The Government deployed police and opened legal offices destroyed by the rebels and was participating in peace talks even though the rebels had not cooperated, he said. But the Security Council had regrettably threatened sanctions, emboldening the rebels and insisting on unrealistic conditions which, ultimately, led to the collapse of peace talks. Most recently, on Saturday, the Council adopted another resolution which was "an incentive to the rebels" and did not take account of Government efforts to contain the crisis.
President Enrique Pereira Rosa of Guinea-Bissau said his country had unfortunately not escaped the cycle of violence and political crisis which plagued so many African nations. Conscious of the problem, the country's authorities were doing all possible to rectify the situation. "Our people have suffered too much, they have endured too much," he said. "We must give them new reasons to hope." Efforts were being made to foster a culture of peace and to achieve true democracy with elections scheduled for next year.
Guinea-Bissau, he said, needed international aid to overcome the many problems confronting it. "This aid is urgent," he stated. Efforts were in place to fight corruption, thanks in part to assistance from the UN Development Programme (UNDP). A roundtable meeting on the country's economic development was planned for December. "We count on your presence and your participation and your solidarity," he told the assembled leaders.
Al Hadji Yahya Jammeh, President of Gambia, said West Africans could well appreciate the fact that there could be no development in the absence of peace. That region "is rich in natural resources, yet wallowing in poverty because, in large measure, of conflicts," he noted. Efforts were being made by the UN and the Economic Community for West African States (ECOWAS) to respond in Liberia and in Sierra Leone.
"Now that the fires of war have subsided in these two countries, we should focus our attention even more sharply on the festering conflict in Côte d'Ivoire," he said, calling for pressure on the parties to avoid exacerbating the crisis. He also drew attention to other challenges across Africa, particularly in Sudan, where he said the Government must "redouble its efforts and work in concert will all its partners in the search for a speedy solution to the problem in Darfur."
While numerous speakers have discussed the role of trade practices in alleviating poverty, Honduran President Ricardo Maduro was more specific than most, telling delegate that while five years ago, coffee farmers in his country received 40 per cent of the revenues from their product, that figure had dropped to just 9 per cent today. He called on the assembled Heads of State who produce coffee to join forces in working for just compensation for workers.
If the price of coffee could make a difference in alleviating poverty, he said, adjustments in the price of oil could profoundly affect the situation. In the case of Honduras, rising petroleum costs over the past year meant that money was spent that could have been allocated to helping 870,000 children who went to school without proper meals. He appealed to the international community - particularly the oil-producing countries - to set up a fair pricing system.
Jorge Batlle Ibáñez, President of Uruguay, said achieving peace "would be futile if at the same time the United Nations lacks a ready source of funding that could be immediately spent for the benefit of none other than the peoples for whom it is intended." He called on those present to "create global and largely autonomous financial instruments to achieve these goals."
The fight against terrorism and other evils - hunger, poverty, underdevelopment, marginalization and exclusion - "needs a United Nations that is more united and capable of more rapid and effective responses," he said. "This is why it must be more representative, balanced and reliable, so that it could continue to be a reference point for the weak and a restraining influence on the strong."
Pakalitha Bethuel Mosisili, the Prime Minister of Lesotho, recalled that four years ago, leaders meeting at the UN had adopted the Millennium Development Goals (MDGs) - time-bound and measurable targets for combating poverty, hunger, the spread of HIV/AIDS, illiteracy, environmental degradation and discrimination against women. At that time, he said, "we did not anticipate that, as we approach the comprehensive review in 2005, the HIV and AIDS pandemic would have become the greatest threat to life itself, particularly in sub-Saharan Africa."
As early as the year 2000, Lesotho had declared HIV and AIDS a national disaster, and had taken various measures to control and manage the pandemic, he said. "We have not been alone in this fight," he said, voicing appreciation for the support of Stephen Lewis and James Morris, the Secretary-General's Special Envoys on HIV/AIDS in Africa, and on the Humanitarian Crisis in Southern Africa, respectively. He credited them with helping Lesotho to start a "robust" programme of anti-retroviral treatment and ensuring a steady food supply for vulnerable and orphaned children. "Interventions of this nature give credence to the lofty declarations adopted at various international summits on the HIV and AIDS pandemic, as they complement and strengthen our own initiatives and limited resources," he said.
The Prime Minister of Malta, Lawrence Gonzi, said a key development in the Mediterranean region had been Libya's decision to renounce its programme on weapons of mass destruction. "As a long standing friend and close neighbour of Libya, Malta has particular reasons to welcome this development and the increased opportunities it now creates for Libya to play a significant role in the process of Euro-Mediterranean security and cooperation," he said.
At the same time, he warned, problems relating to the development of weapons of mass destruction (WMDs) still persist in other regions of the world. "The role which initiatives encouraging regional stability and economic and social development can play in the resolution of these problems should not be underestimated," he said, calling for a new examination of the threat posed by the most dangerous arms. "The problem of proliferation of weapons, especially weapons of mass destruction, has in our day assumed a new and frightening dimension in its possible linkage with terrorism," he said, calling on nations to strengthen disarmament measures.
Ghana's Vice-President, Alhaji Aliu Mahama, agreed that laudable initiatives to halve hunger and poverty could not be achieved without a fundamental restructuring of the global trade system, particularly in agricultural products. "Such an initiative should include developed countries dismantling subsidies, lowering tariffs, and thereby helping to uphold and safeguard an open, equitable, rule-based, predictable, non-discriminatory trading and financial system," he said.
Sandra Pierantozzi, Vice-President of Palau, urged funding to help small States. "Ironically, it is the tiny countries like ours, where so many of the world's environmental treasures exist, that are denied the assistance they need, due to a perceived lack of capacity to navigate the unwieldy bureaucracies of the international organizations that are charged with protecting those very treasures," she said, warning that the failure of the world to come to an agreement to implement the Kyoto Protocol on climate change "will contribute to the destruction of our marine and terrestrial resources."
Prince Albert of Monaco joined others in calling for an expansion of the Security Council. "Its enlargement, be it of permanent or non-permanent seats, should strengthen its ability to contribute to the essential tasks of peace-keeping by asserting a more equitable representation of the diverse regions that compose our international community," he said.
Turkish Foreign Minister Abdullah Gül said his country "is determined to sustain the promising and constructive atmosphere in our relations with Greece." He voiced hope that bilateral relations will continue to improve in the months ahead. "Our wide ranging cooperation is expanding in every field," he said. "This will facilitate the settlement of all pending issues. It will also result in a climate of cooperation beneficial to the two countries as well as peace, stability and security in the region as a whole."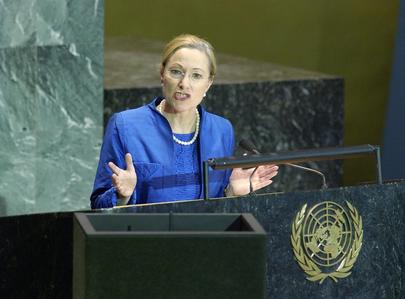 Benita Ferrero-Waldner, the Foreign Minister of Austria, drew attention to the threat posed by the proliferation of small arms and light weapons. "The UN Programme of Action against the illicit trade of those weapons must be strengthened," she said. "First steps have already been taken with regard to the problem of marking and tracing of weapons, steps that may lead to a legally binding regime." She also called on countries to participate in this year's Review Conference of the Antipersonnel Mine Ban Convention, to be held in Nairobi.
Foreign Secretary Jack Straw of the United Kingdom acknowledged the controversy over the war in Iraq but called for a concerted fight against terrorism. "Yes, I know - how could I forget - that opinions have differed over the rightness of the military action taken in Iraq 18 months ago, but I warrant that no nation is in favour of the terrorist insurgency now occurring there," he said. "For we all recognize that what is being attempted by the terrorists in Iraq is an attack both on the Iraqi people and on everything for which this organisation stands: safety, security, human rights. We must come together to defeat the terrorists and their despicable aims." He added that, "We must never stoop to the level of the terrorist: to torture, mistreatment, unjustified incarceration."
Brian Cowen, the Foreign Minister of Ireland, emphasized that instability very frequently arose from situations where human rights were abused or denied. "The abuse of human rights is also at the root of poverty and underdevelopment," he said. "Respect for human rights, on the other hand, is an essential element of good governance, and must be at the centre of efforts to prevent conflict, and of post-conflict reconstruction."
Russia's Foreign Minister, Sergey Lavrov, said his country was still grieving over the horrific terrorist attack on Beslan. Terrorists around the world had made mass murder an end in itself, and Russia had drawn harsh conclusions from this. "We will not allow anyone to encroach on the sovereignty of our State," he said, pledging to consolidate efforts to fight terrorism in a constitutional manner. He called for a renewed international struggle against the scourge, emphasizing the need to translate ideals into action. Security in today's world is by necessity interdependent, and as such a collective response is needed. "This evil can be coped with only on a multilateral basis through the consolidation of efforts and acting in solidarity."
Per Stig Møller, Minister for Foreign Affairs of Denmark, said the main responsibility for fighting terrorism lay with individual States, which must comply with relevant Security Council resolutions and implement the 12 UN anti-terror treaties. He voiced support for efforts to reinvigorate the UN Counter-Terrorism Committee (CTC). "The work of the CTC must be better focused and linked with the assistance extended to countries who have the will - but lack the means - to meet the requirements of Security Council resolution 1373" which set up the group.
Bulgaria's Foreign Minister, Solomon Passy, advocated global support for the development of southeastern Europe. "Developing infrastructure and political stability have to go together," he said. "The people of the region are isolated from each other and from the rest of the region. It can take longer to fly from Sofia to Tirana than to cross the Atlantic." He cited a "desperate need for highways, railways and infrastructure corridors to bring the people of the region closer together."
Sheikh Mohammad Sabah Al-Salem Al-Sabah, Kuwait's Foreign Minister, said despite the fall of Saddam Hussein, the vestiges of the old regime were hampering efforts of the new Government to rebuild all that had been destroyed. "Convinced as we are that security and stability for Iraq mean security and stability for the region as a whole, Kuwait supports the interim Government in these difficult times," he said, welcoming the creation of a tribunal to try those responsible for crimes against Iraqis and Kuwaitis, who had also suffered from the former dictator's actions, including the killing of prisoners of war.
Vuk Draškovic, Foreign Minister of Serbia and Montenegro, said the insistence by some on the creation of a sovereign state of Kosovo amounts to a call for the break-up of his country. "Such an aspiration breeds new hatreds and miseries and is contrary to the basic tenets of international law and the Charter of the United Nations," he said. Belgrade was prepared to work on an agreement on the status of Kosovo, he said, but added: "we will not agree to the violation of our State and its rights."