No Denying It episode 6: Michelle Yeoh Introduces Tariq Al-Olaimy
Climate and Environment
In the sixth episode of the UN climate action podcast No Denying It, actor Michelle Yeoh Introduces Tariq Al-Olaimy, a young entrepreneur whose organization, Public-Planet Partnerships, allows business, changemakers, and governments to consider new ways of working & collaborating with nature.
Tariq Al-Olaimy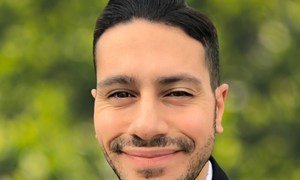 Mr. Al-Olaimy is the co-founder of 3BL Associates, a people + planet strategy consultancy and Think-do-Tank, that was established to re-imagine a more regenerative Middle East, and to accelerate global sustainable development through collaboration.
3BL works to address the way we solve global social, environmental and economic sustainability challenges; and transform them into opportunities to create prosperity for communities.
He works at the intersection of issues like peace, health, and climate, through a systems-thinking, values based approach. Mr. Al-Olaimy inspires us to think about how we can partner with nature to solve climate issues.
Michelle Yeoh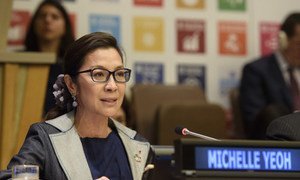 The Malaysian-born film star was appointed Goodwill Ambassador in 2016, for which she helps mobilize support for the Sustainable Development Goals. 
Michelle Yeoh focuses on empowering the most vulnerable, including women, those living in poverty and those facing disasters and crises. 
Ms. Yeoh has starred in films such as Memoirs of a Geisha, Crazy Rich Asians, James Bond: Tomorrow Never Dies, and Academy-Award winning Crouching Tiger Hidden Dragon, among many others. 
In 2016, she teamed up with UNDP's first-ever Animal Ambassadors, two panda cubs, to kick off the Pandas for the Global Goals campaign, and also joined the UN Wild For Life campaign to end poaching of protected species.