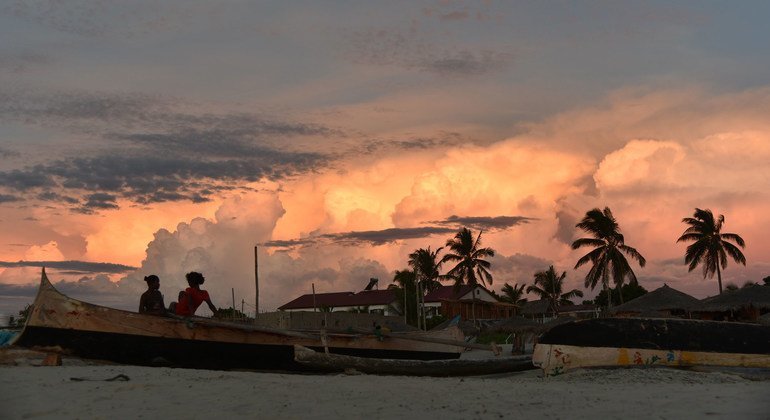 From shifting weather patterns that threaten food production, to rising sea levels that increase the risk of catastrophic flooding, the impacts of climate change are global in scope and unprecedented in scale.
The UN Environment Programme (UNEP) celebrates its 50 birthday this year, calling for more action worldwide to overcome climate change, biodiversity loss, and rising levels of pollution and waste – three crises that threaten our planet.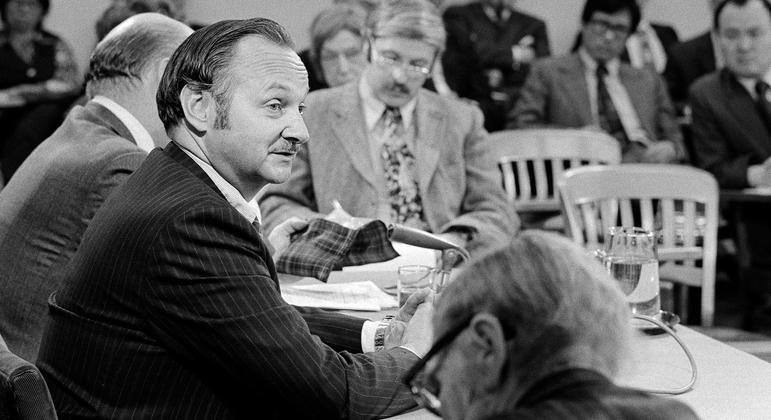 Fifty years ago, the idea of global environmental governance was not universally accepted. However, Canadian diplomat Maurice Strong – who became UNEP's first Executive Director – convinced many governments of the need to make it a priority. He's pictured here at a briefing in 1974, updating correspondents in New York on the recently concluded session of UNEP's Governing Council in Nairobi.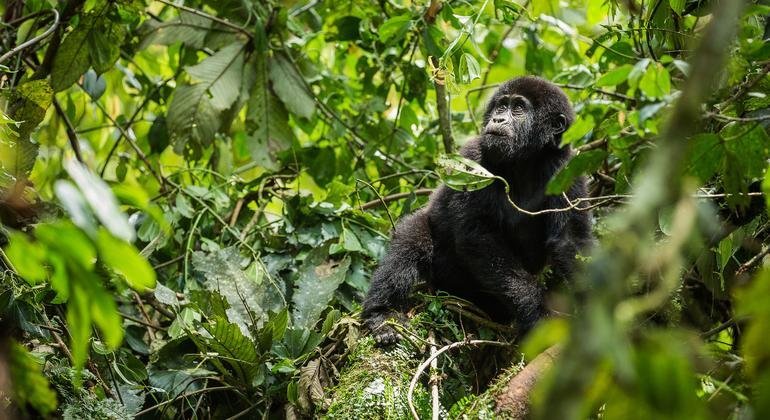 By collaborating with partners worldwide, UNEP has helped save endangered species from extinction, through innovative approaches such as looking at ways to diversify income for local communities, so they can share space and resources with with wildlife.
UNEP's Gorilla Conservation Coffee project, teaches farmers in Uganda how to grow top-notch beans while conserving water and using organic fertilizers. This has helped the mountain gorilla population in Bwindi Impenetrable National Park, to steadily grow.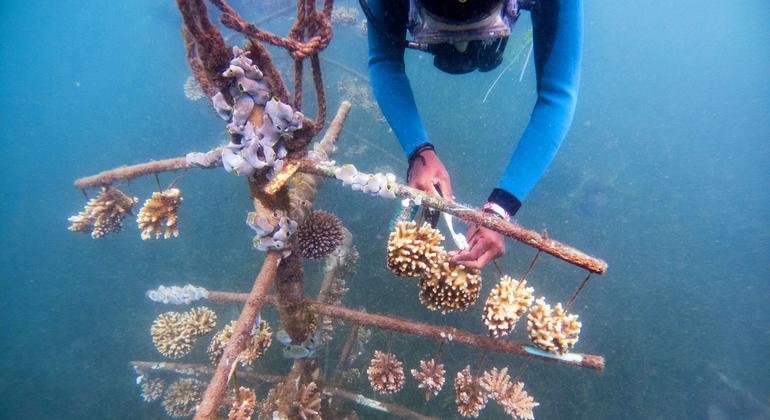 UNEP believes that restoring key ecosystems is critical to help combating climate change through sustainable development.
And as the foremost global voice on the environment, it provides both leadership and partnership to improve life for people and planet, including through its work with the REEFolution Foundation and local communities in developing countries in using hands-on methods to restore and conserve coral reefs, as pictured.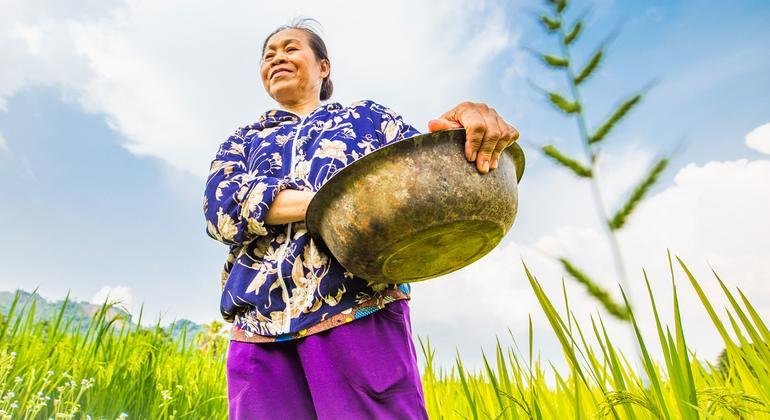 Carbon dioxide (CO2) stays in the atmosphere for up to 1,000 years, methane for around a decade, and nitrous oxide for approximately 120 years. UNEP has been working for decades to reduce these greenhouse gases (GHGs), including by training farmers to swap out toxic chemical fertilizers for an organic alternative.
Pictured here is a member of Vietnam's Quang Chu commune, in Bac Kan province, where they fertilize their crops with home-made biochar - agricultural waste products such as wood chips, plant residues or manure. This has helped the soil retain nutrients, increase yields and prevents harmful GHGs getting into the atmosphere.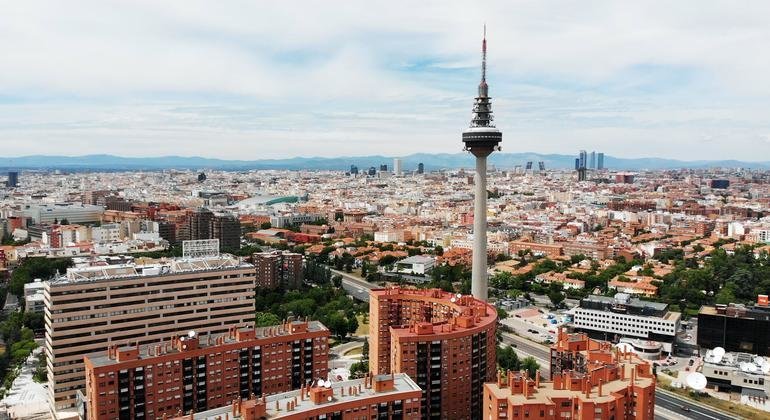 UNEP's Climate and Clean Air Coalition – a global network of 120 State and non-State partners, and hundreds of local actors – is committed to improving air quality and protecting the environment by reducing short-lived climate pollutants.
Madrid, the capital city of Spain, has launched a drive to connect a series of existing woodlands, creating a 75km-long green belt around the city to improve air quality, counter climate change and create a wealth of recreational opportunities for residents.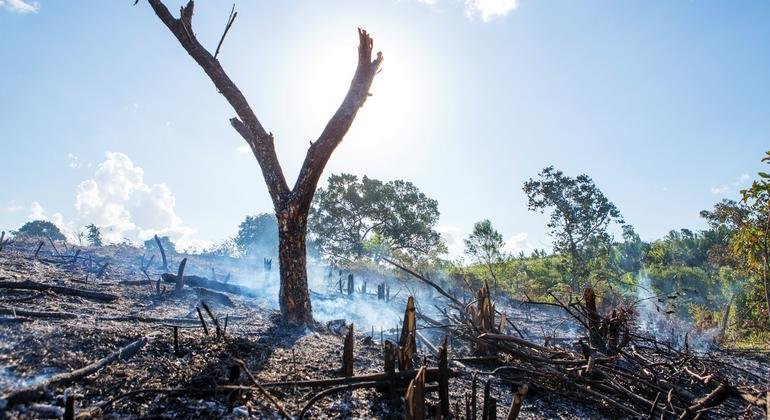 Desertification and drought are threatening lives and livelihoods, underscoring the need to boost biodiversity in ecosystem restoration.
To reduce biodiversity loss, UNEP has been a key player in the global movement to slow deforestation, including in the farmland pictured here, which was once part of Tsitongambaraika forest in one of Madagascar's few remaining humid lowland areas. Local communities are being educated about the value of their natural resources and preserving trees.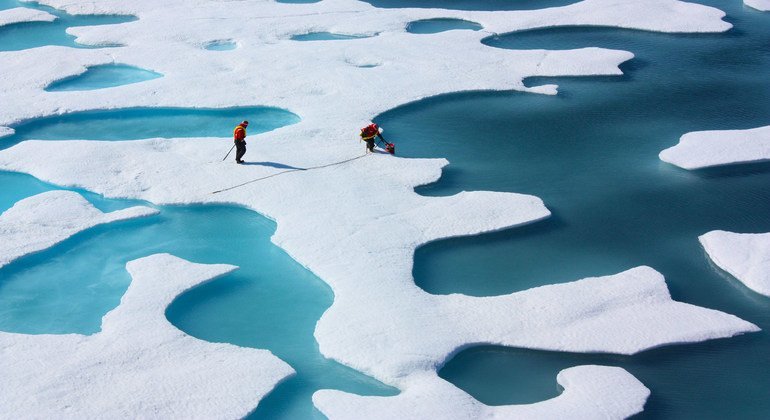 During last year's COP26 Climate Conference, UNEP worked towards spurring immediate action by countries to reduce greenhouse gas emissions while also adapting to climate impacts such as the loss of sea ice, pictured, and extreme weather events that accelerate global warming and changes climate patterns.
The agency was also central to the UN effort to generate large-scale private financing to reach the Paris Agreement.