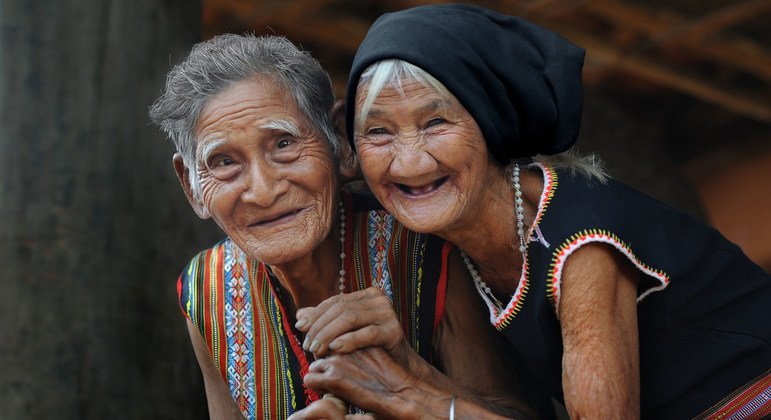 The people of Viet Nam have been describing the type of world they want to live in, as part of a national photo contest launched by the United Nations called "The Future I Want" to mark the organization's 75th anniversary.
1945 was a landmark year for Viet Nam and the world, which marked Vietnamese independence, and the founding of the United Nations. Hồ Anh Tiến's image "Happy old age," depicts a couple now in their 80s who were young witnesses to that remarkable year.
Good health is at the foundation of a happy life and is one of the Sustainable Development Goals or SDGs, adopted by countries from every corner of the globe, in 2015. A father beams as he holds his tiny baby in the vaccination clinic in Phạm Quốc Hưng's photograph. His wife says she's happy that he is taking on responsibilities that were once left solely to women.
The work is hard, the pay is minimal. A woman dyes fibres by hand. This is just one of the steps in an arduous process to make traditional mats that people use for eating, prayer and rest. Trần Đình Duy and Tạ Quốc Hội's photo shows the tough conditions that some workers experience in Viet Nam. SDG 8 focuses on decent work and how working conditions can be improved for people around the world.
Nguyễn Trung Hiếu's photo "Drawing Dream", features a man whose hands and lower arms have been amputated. Around one in 30 people in Viet Nam, has a disability, many of them with amputations, whether from unexploded ordnances, infection, or other causes. SDG 10 tackles reducing inequalities, including for those living with disabilities.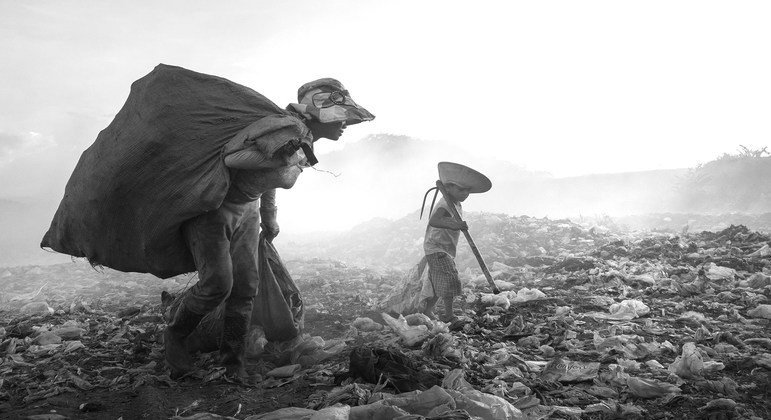 In their 2015 pledge to fulfil the SDGs, the nations of the world committed to "leave no one behind." Among those most disadvantaged, are people like the mother and son depicted in "Where childhood is left," by Nguyễn Hữu Khiêm, who was "very sad to see this scene." The two scavenge for anything of value; recyclable plastic and other small items that can be resold.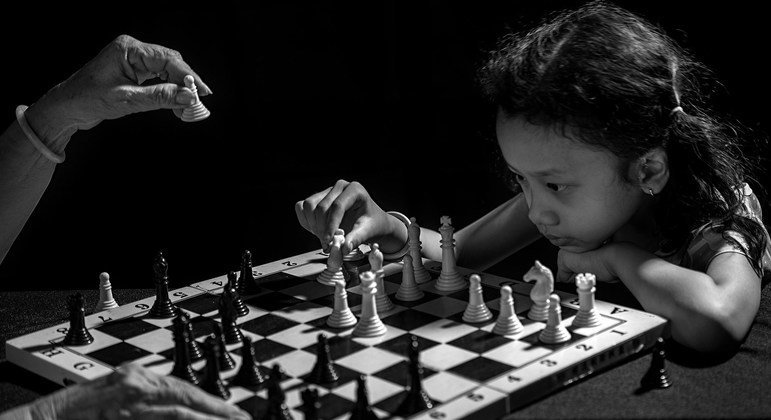 As COVID-19 continues to affect communities the world over, people have adapted as best they can, remaining isolated from one another. "Stay home with grandma," a photo by Đinh Công Tâm, shows a young girl puzzling out her next move in a game of chess with her grandmother.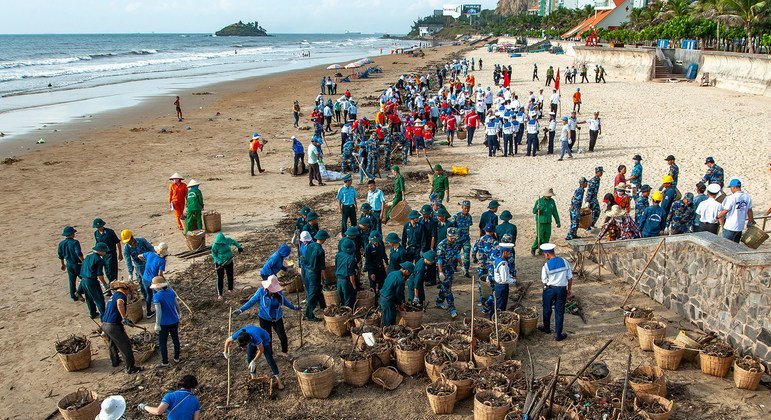 "The United Nations symbolizes the power of solidarity to overcome global challenges", says Kamal Malhotra, the UN Resident Coordinator in Viet Nam. "Only when we come together, can we tackle the challenges and convert the high aspirations of the UN Charter into reality for the future we want." "For a clean, green environment," by Đỗ Trọng Hoài Ân depicts people working together to clean marine environments, one of the aims of SDG 14, Life Below Water.