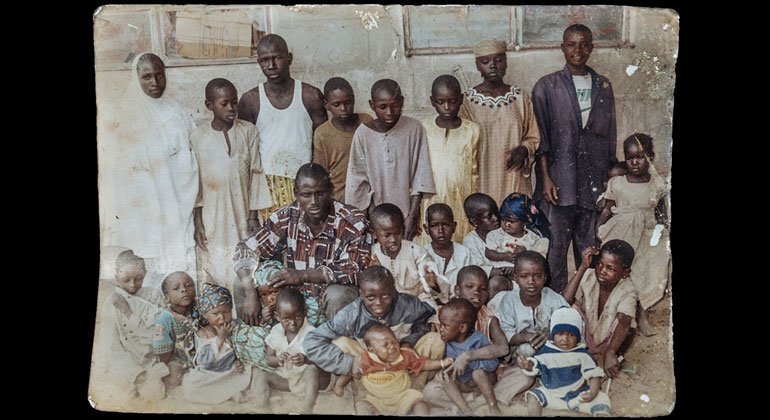 These pictures are taken from the Holding On campaign, organized by the International Organization for Migration (IOM), which has collected powerful stories from internally displaced people forced from their homes. This 20-year old photo belongs to Oza Modu, who fled Baga, north-eastern Nigeria, following attacks by the Boko Haram terror group. It connects him to home, but makes him feel sad, as many of his brothers were either killed, or joined Boko Haram.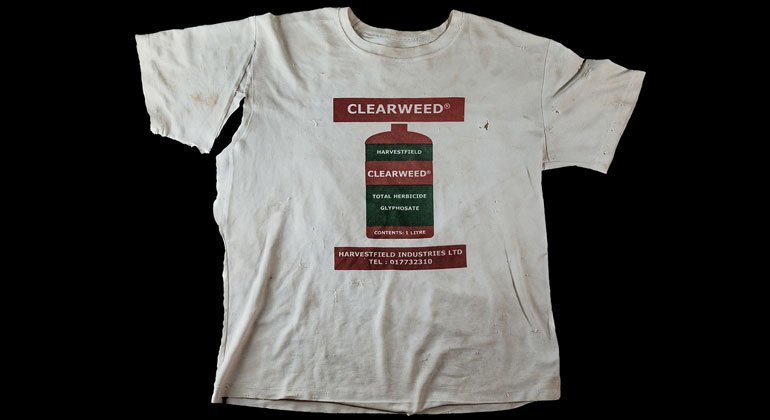 "This t-shirt saved my life" Hannatu Yusuf was also forced from her home in Baga, and didn't even have time to get dressed when Boko Haram came. She covered herself with this T-shirt, which she found in the forest, before being captured by the group. After she and her family were freed, they were taken to a camp in Maidaguri where, since her husband died, she has struggled to make ends meet. Hannatu doesn't know when she will be able to return to Baga, and the T-shirt is the one thing she has, that reminds her of home, and her escape from danger.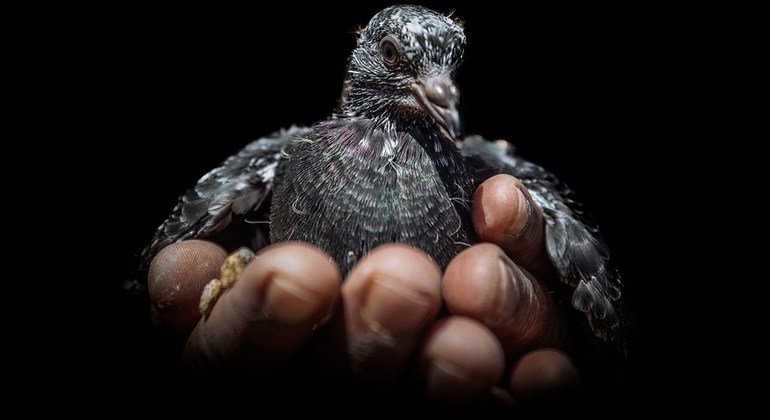 "These birds remind me of everything I held dear in my life." When the ISIL terror group came to Yathreb, a region 90km north of the Iraqi capital Baghdad, in 2014, Abu Jassim couldn't leave without his beloved pigeons. The farmer, a 49-year-old father of three, eventually found sanctuary in Ahsty camp, Sulaimaniyah. His house in Yathreb was razed to the ground, and security is still an issue. But his pigeons help him to relax, and help him to think of his farm, his livestock and his old life.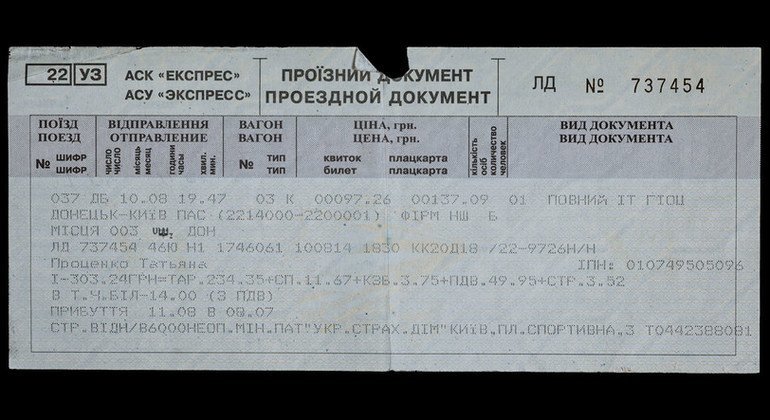 "I keep the ticket in order not to forget anything, in order to remember what we went through and cherish everything we have now." Tatiana Protsenko's travel business in Donetsk, eastern Ukraine, came to an abrupt end in 2014, when armed men 'confiscated' her company at gunpoint. This, as well as the fighting between the Ukrainian military, and pro-Russian forces, convinced Tatiana to leave for Kyiv the next day. She never returned to Donetsk, and had to rebuild a new life in the capital. But she has kept the one-way train ticket she bought, as a reminder of her ordeal.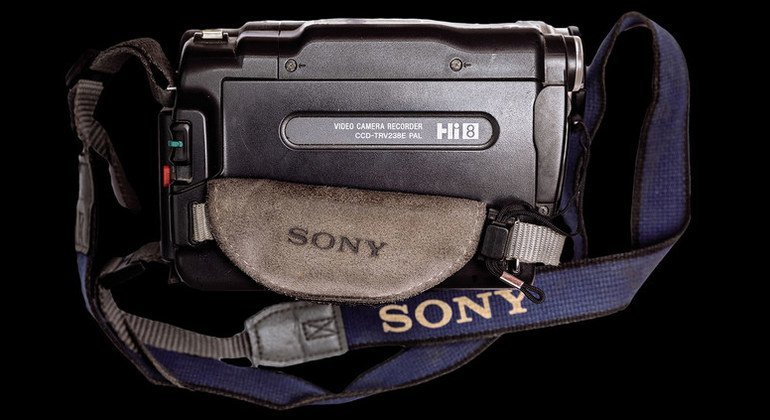 "One by one, the achievements of a lifetime, all of it was gone. This camera and an old video camera were supposed to be the last things to go but I couldn't bring myself to sell them." Moafaq used to make a good living as a wedding photographer in Mosul, Iraq, up until the summer of 2014, when the ISIL terror group took the city from government forces. Although life became increasingly difficult, Moafaq stayed, until the Iraqi army began its operation to reclaim Mosul. He had to sell almost all of his equipment, but couldn't let go of an old video camera. "We used to go north to picnic and these cameras were always with us. We took pictures and video footage that I still keep as memories." Today, Moafaq is in an IDP camp, waiting for the day he can return home, and restart his business.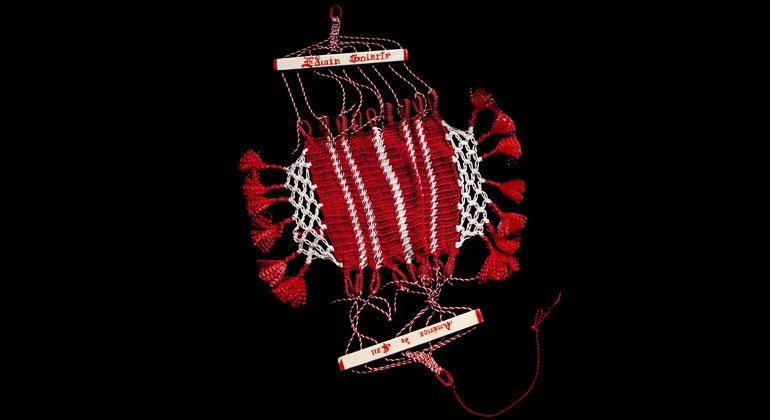 "I see my son in this object. It represents his memory. Every day feels like the day I lost him." IN 2003, Martha, a community leader in Putumayo, Colombia, was abducted by paramilitaries, who had already killed many people in the region. Her eldest son played a part in her eventual rescue, and for this he was killed. Martha managed to get his killer sent to jail and, when she visited him, another prisoner was moved by her story to knit a hammock, stitched with her son's name, Edwin. "I keep it in a small bag. Wherever I go, I always carry it with me." Edwin was not the only victim in Martha's family; seven others were murdered or forcibly disappeared over the years.
"The more I get to know people, the more I like dogs" Valerii Grek abandoned his "happy life" in Dokuchaevsk, eastern Ukraine, when his neighbour's house was shelled. This happened four years ago, as the conflict between separatist militia and government forces erupted. With his family, and two dogs, Valerii found shelter in an abandoned home in the village of Novyi Donbas. His dogs, he says, feel his emotions. "They are my real friends, they are a part of my family."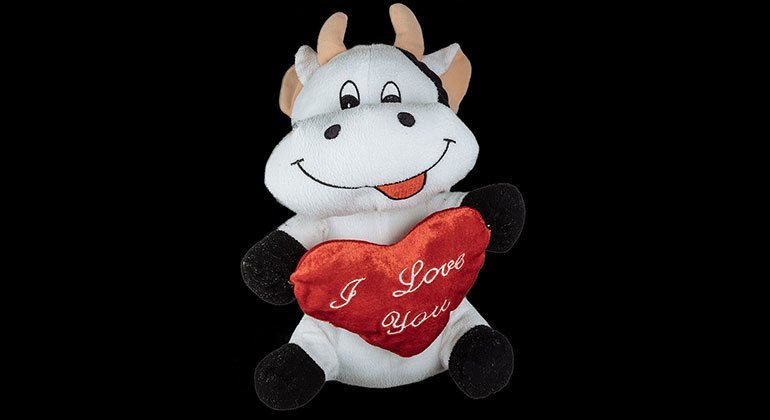 "I think for some time the cow was associated with stability, harmony and self-reliance we had before displacement." Vlada was 13 in spring 2014, when her first love, Nikita, gave her a birthday present: a toy cow. Just a few days later, the eastern Ukraine conflict began, forcing her and her family to leave Horlivka, eventually ending up in Kyiv. For a long time, she slept with the cow, which she associated with the stability of her former life. Initially, the family though they would soon return home, and it took them a long time to adjust to their new reality. Vlada has successfully graduated from her school in Kyiv, and is now planning to go to university.