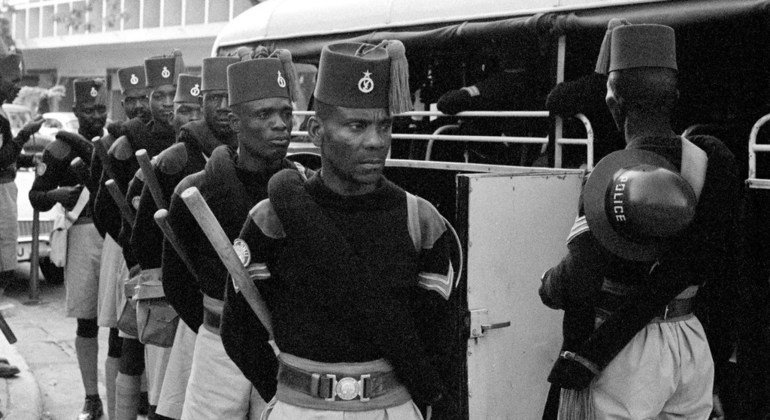 Ghana first deployed troops as part of a UN peacekeeping operation set up to help restore calm and order in the then Republic of Congo (ONUC). Pictured here are Ghanaian police on duty in Leopoldville in August 1960.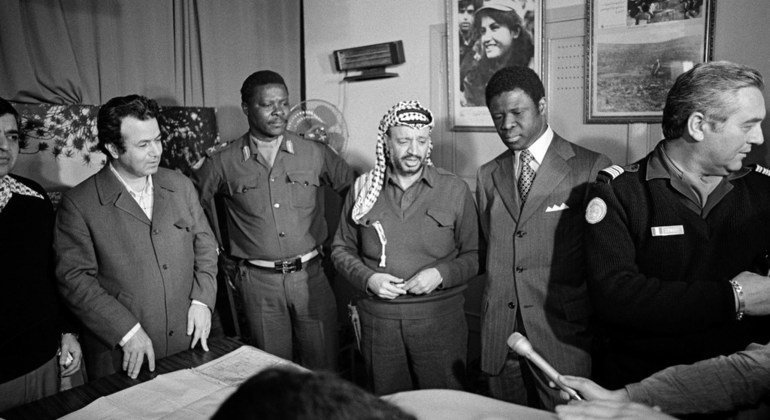 Yasser Arafat (centre), Chairman of the Executive Committee of the Palestine Liberation Organization, making a statement to the press in Beirut, following his acceptance of the Secretary-General's call for a cease-fire in southern Lebanon in March 1978. Among those standing with him is Major-General Emmanuel Erskine of Ghana (second from left), the Interim Commander of the UN Interim Force in Lebanon (UNIFIL).
Soldiers from Ghana (on radio) and China at work in the Central Sector of the demilitarized zone along the Iraq-Kuwait border in May 1991. The zone extended 10 kilometres into Iraq and five kilometres into Kuwait from the boundaries as agreed to in 1963.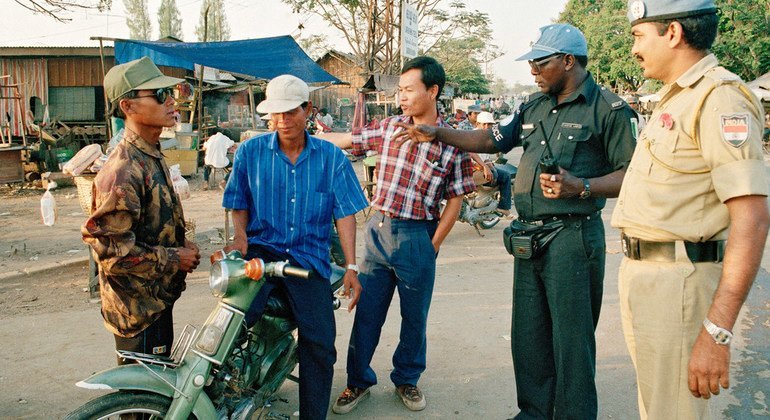 UN Police Officers serving with the UN Transitional Authority in Cambodia (UNTAC) direct traffic in the capital, Phnom Penh, in January 1993. To the far right is a police officer from India; second from right is a police officer from Ghana.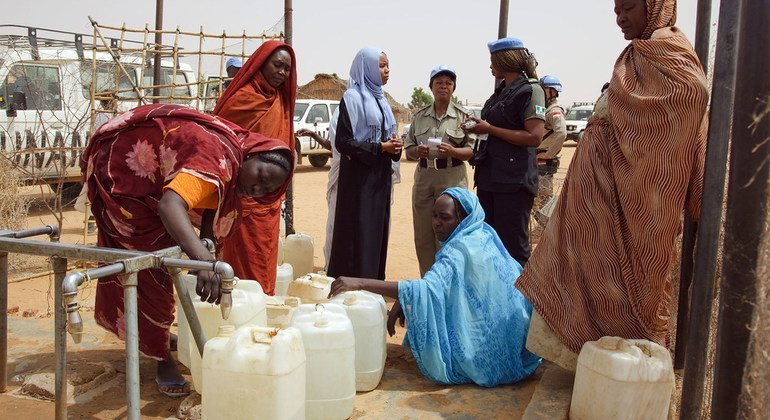 Members of the Formed Police Unit of the African Union-United Nations Hybrid Operation in Darfur (UNAMID) from Ghana, Indonesia and Nigeria conduct daily patrols to monitor the security situation in the Zam Zam camp for internally displaced persons in April 2009.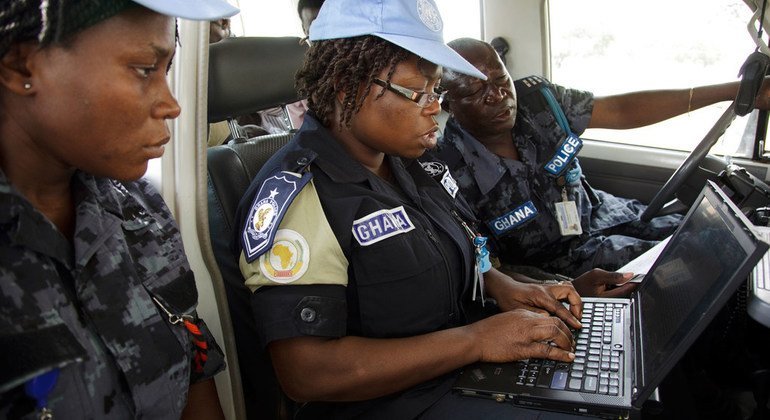 Assisted by two colleagues, Angela Ama Agyeman Sesime (centre) of Ghana, Police Adviser for UNAMID, writes a report following a patrol through the Zam Zam camp for internally displaced persons in North Darfur, Sudan, in October 2010.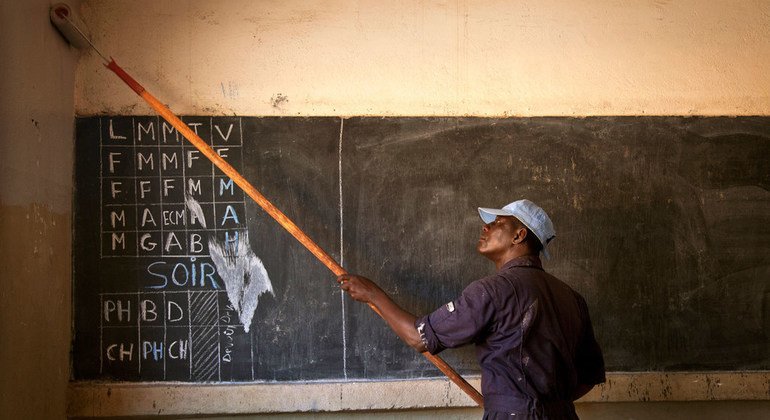 A member of the Ghana Engineering Contingent serving with the UN Multidimensional Integrated Stabilization Mission in Mali (MINUSMA) paints a wall of school in Taliko, a poor neighbourhood of the capital, Bamako. The work was part of efforts in late 2013 to rehabilitate the school, which hosted a number of families displaced by heavy flooding earlier that year.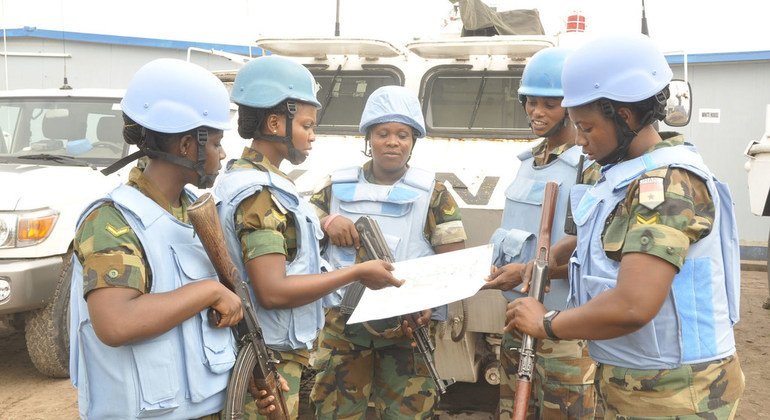 Female peacekeepers with the Ghanaian battalion serving with the UN peacekeeping mission in the Democratic Republic of the Congo (MONUSCO) prepare to go on a patrol in the capital, Kinshasa, in December 2015.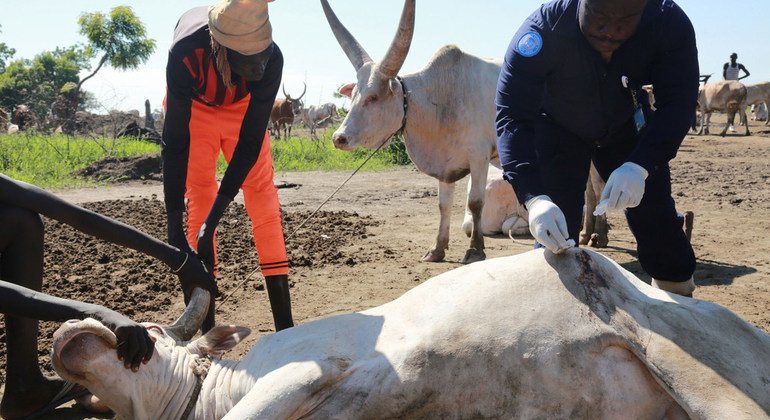 Since April 2017, the Ghanaian Battalion serving with the UN Mission in South Sudan (UNMISS) has been providing much-needed veterinary services to locals in and around Bentiu. The services are part of their efforts to build a durable peace and help the population.
Members of the Ghanaian Battalion serving with the UN Interim Force in Lebanon (UNIFIL) are seen here providing medical care in Al Kawzah, South Lebanon, in January 2016. Ghana is one of the largest troop contributors to UNIFIL, performing key tasks such as patrols, monitoring large portions of the 120-km Blue Line separating Lebanon and Israel, and facilitating humanitarian assistance.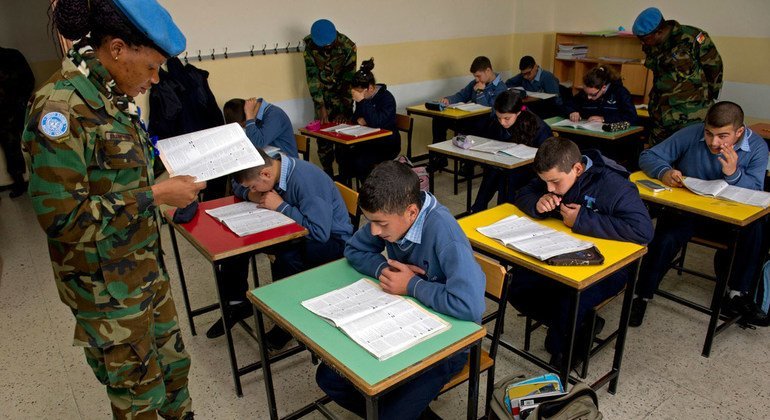 Corporal Akorpa Edzorhoho, a Ghanaian peacekeeper serving with UNIFIL, reads to students in her English class in Rmeish in March 2013.