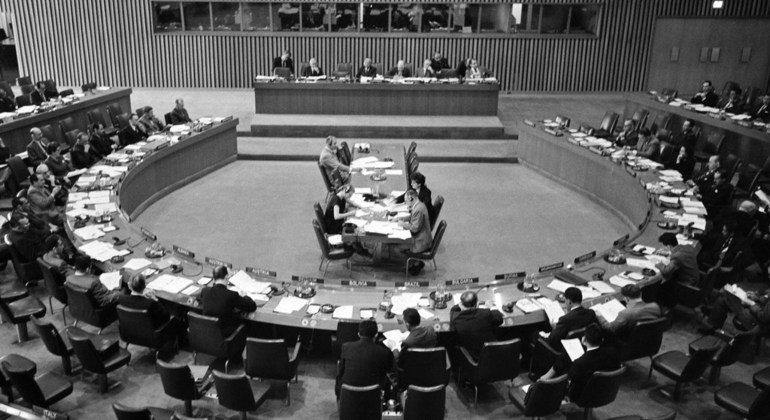 December 1958: UN General Assembly adopts resolution on "Question of the peaceful use of outer space", recognizing humanity's common interest in outer space and the uses of space to benefit humankind.
The following year, the then-ad hoc Committee on the Peaceful Uses of Outer Space convenes its first session (pictured), at the UN Headquarters in New York.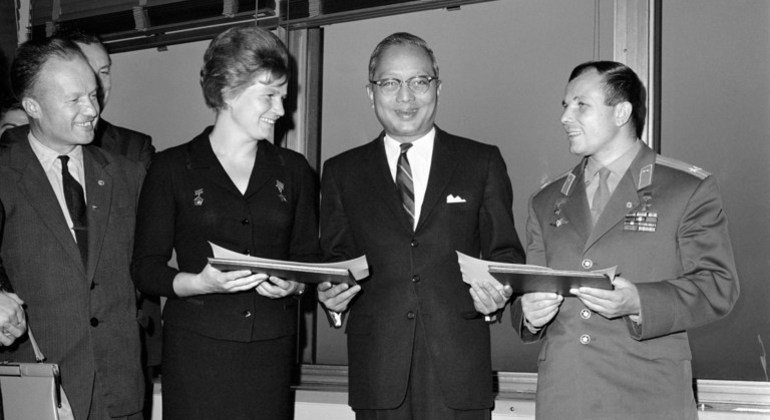 October 1963: The first man and woman in space, Soviet cosmonauts Yuri Gagarin (right) and Valentina Tereshkova (2nd left) visit the UN Headquarters. Here, they are seen with Secretary-General U Thant (2nd right) and the President of the General Assembly Carlos Sosa-Rodriguez (left).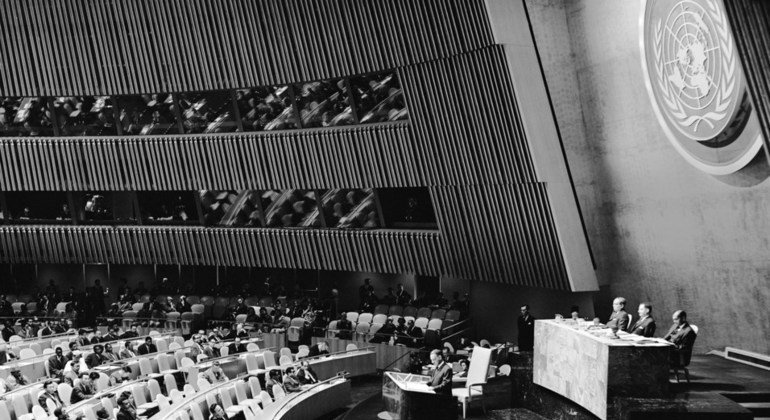 December 1963: UN General Assembly adopts "Declaration of Legal Principles Governing the Activities of States in the Exploration and Uses of Outer Space", establishing space law as a new body of law.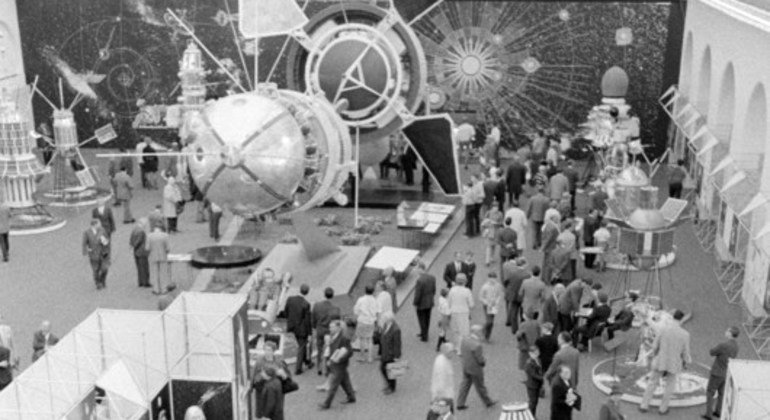 August 1968: The first UN Conference on the Exploration and Peaceful Uses of Outer Space (UNISPACE) opens at the Hofburg Palace in Vienna, Austria. The Conference also featured a space exhibition at the Messehalle (pictured).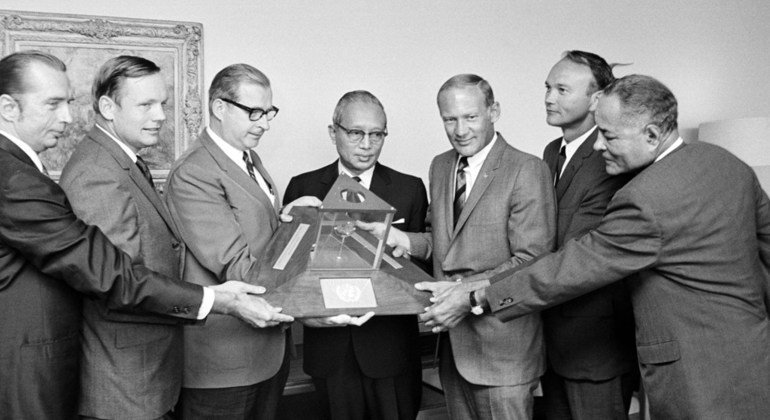 July 1969: UN flag accompanies US astronauts Neil Armstrong, Edwin Aldrin Jr. and Michael Collins on the journey to the moon on Apollo 11.
Here, the three astronauts (Armstrong – 2nd left; Aldrin – 3rd right; and Collins – 2nd right) visit the UN Headquarters, and present Secretary-General U Thant (centre) with a piece of lunar rock and the flag (July 1970).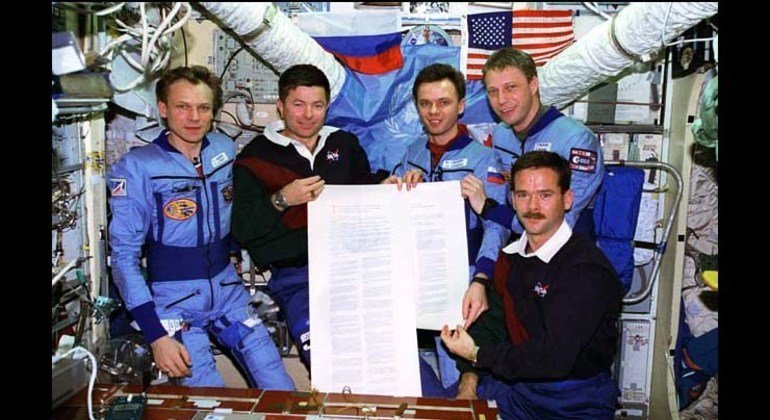 November 1995: The crew of the second Shuttle-Mir Docking mission hold a copy of the Outer Space Treaty – that they signed in orbit – to celebrate UN's fiftieth anniversary.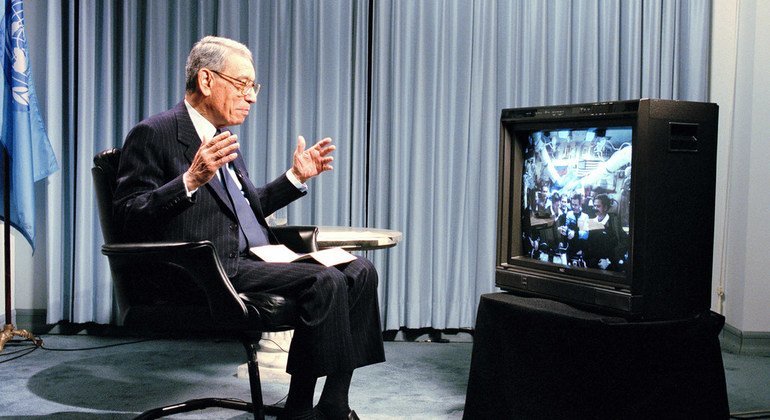 November 1995: Commemorating the 50th anniversary of the UN, Secretary-General Boutros Boutros-Ghali holds a video conference with the crew of the mission.

May 2004: Yang Liwei, the first Chinese astronaut to travel into space, meets with Secretary-General Kofi Annan. During the meeting, Mr. Liwei presented the UN chief with the UN flag flown aboard the Shenzhou 5 spacecraft.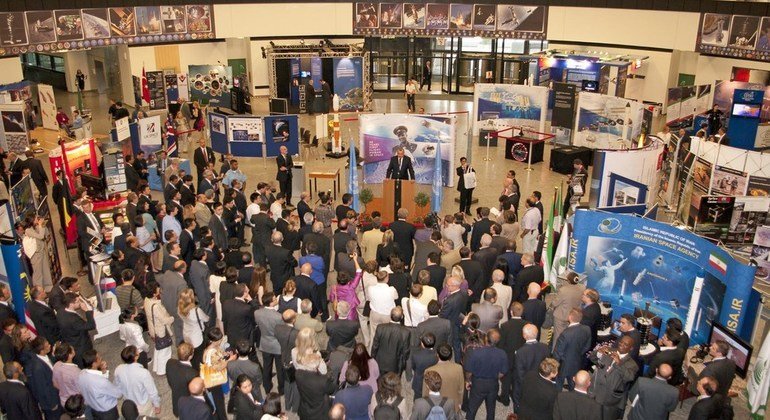 June 2011: UN commemorates 50 years of human space flight, with an exhibition in the Rotunda at the Vienna International Centre.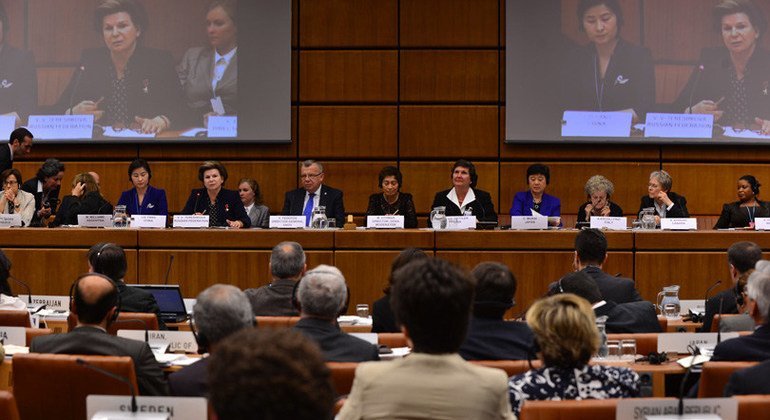 June 2013: UN celebrates 50 years of women in space with female space leaders from around the world gathering at the Committee on Peaceful Uses of Outer Space, in Vienna.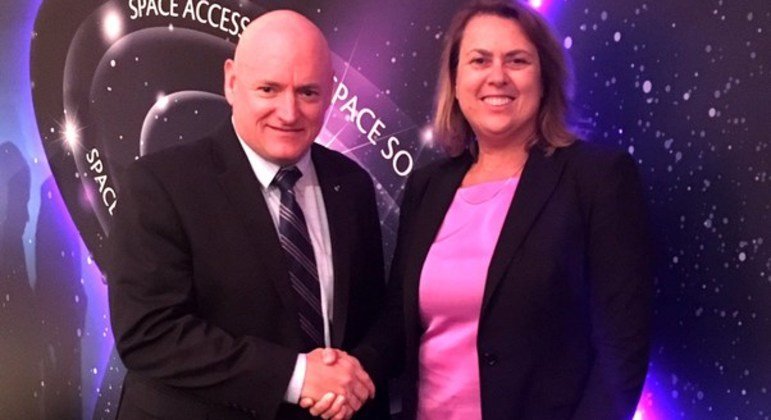 November 2016: UN appoints former US astronaut Scott Kelly, who spent one year in outer space – aboard the International Space Station – as the Organization's Champion for Space to raise awareness on the benefits of space for sustainable development.
Pictured here, Mr. Kelly (left) and Simonetta Di Pippo (right), the Director of the UN Office for Outer Space Affairs (UNOOSA).