A newly published volume of prison letters written by the former President of South Africa and global anti-apartheid icon, Nelson Mandela, reveal to the world the enduring "power of hope".
That's according to the South African journalist and author who edited the volume of letters written by the world's most renowned political prisoner, many of which have never been seen before.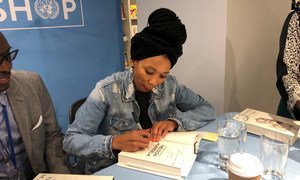 For this edition of our UN and Africa podcast, Matt Wells talks to Sahm Venter, who was at UN Headquarters in New York to celebrate Nelson Mandela Day, as the world marked the centenary of his birth.
Music credits: Be Africa, by Bibi Tanga and the Selenites.
Youssou N'Dour – Africa Calling, by IntraHealth International.